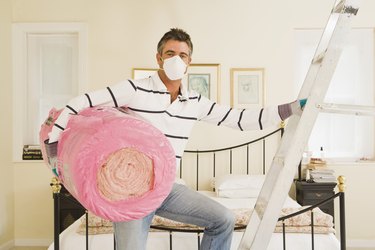 If you want your home to be energy efficient, the type of insulation you use is important. Drafts and air leaks through cracks and crevices in attic space and through floorboards can rob your home of heat in the winter and cool air in the summer. Learn about the differences between wool and fiberglass to make a wise choice. And if you are installing the insulation as a DIY project, work safely. Wear gloves to protect your skin from irritants, glasses for your eyes and a mask so you don't breath in particles when working with either fiberglass insulation or wool.
Types of Wool Insulation
Wool insulation (also referred to as "mineral wool") is sustainable and renewable and comes in three types: sheep wool, slag wool and rockwool. The sheep wool type is all-natural and more efficient than fiberglass. It requires 15 percent less energy than fiberglass to produce. In addition, sheep wool can be recycled. Unlike fiberglass, sheep wool is biodegradable after use as insulation and has a zero ozone depletion factor. Slag wool and rock wool are made of natural basalt rock and steel slag recycled from landfills. Rockwool is the only type of insulation that is fire retardant. Rockwool can be applied as a blow-on for walls once a starch binder is added or as a blow-in insulation for attics.
Wool Advantages
In addition to its environmental credentials, wool insulation provides performance advantages. Sheep wool leaves no negative footprint in the ecosystem, since it is biodegradable, and rockwool does not burn. Because wool is denser, it also outperforms fiberglass if you need sound reduction. Another plus for rock wool is that when it is used for blow-on applications to seal wall cavities, it is as effective as cellulose insulation and superior in performance in comparison to batt or roll-on blankets of fiberglass insulation. Rockwool weighs in at 1.2 pounds per square foot and fiberglass weighs 0.5 pounds per square foot. The extra weight means rock wool will be less prone to shifting and sending out airborne particles.
Fiberglass
Fiberglass is a soft, pliable insulation material made with synthetic materials and recycled glass. It is the most popular type of insulation in the United States. Because of its flexibility, fiberglass works well for hard-to-reach areas such as corners, crevices and cavities, which adds to its popularity as an insulation choice for homes, commercial buildings and offices. Fiberglass typically comes in pink or yellow rolls or batts and is installed between wall studs, floor joists and ceiling beams. It is rolled onto floor surfaces or stapled onto walls and ceilings. The ease-of-use and application add to fiberglass' popularity for do-it-yourself installations.
Fiberglass Advantages
Fiberglass costs less, is widely and readily available and doesn't require special equipment for installation. Wool is far less common in use and availability in the United States than it is in other countries. Fiberglass is a stock item in U.S. home improvement and builders' supplies stores. Wool also requires special equipment for blow-in and blown-on applications, along with a DIY skill set that's a bit more advanced.