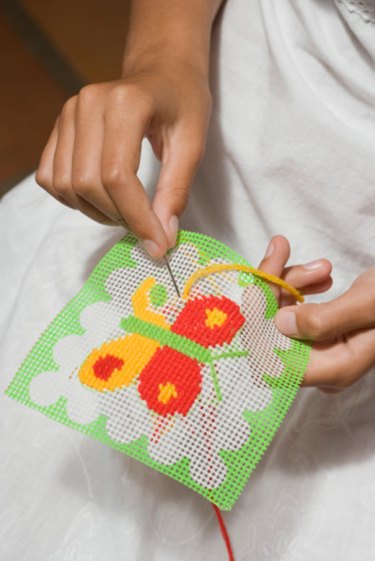 Plastic canvas can be used to make a variety of crafts, including book covers and bookmarks, tissue holders, magnets and signs. There are endless ideas and patterns for crafts using plastic canvas. All you require is a little bit of patience, a pattern, a few sheets of plastic canvas, a needle and some yarn. Plastic canvas crafts are great for children and those new to crafting.
Plastic Frog Magnet or Coaster
Cut your plastic canvas so that it measures 30 squares across and 30 squares lengthwise. Use a pattern such as the one provided free by the Mountain Harmony website, or draw your own using graph paper. Follow the pattern for stitching the frog, using green, white and pink yarn. Finish by stitching with black yarn around the edges of the canvas and to stitch over the green to make eyes and stitch features to your frog. If you choose to make a magnet, use magnets with an adhesive on the back and apply to the backside of your square on all four corners.
Baby's Room Sign
Use 7-count plastic canvas and cut into the shape of a heart. Follow a pattern such as that provided free on the Artists Helping Children website or draw your own using graph paper. Using a star pattern, cut out two stars, or draw your own pattern using graph paper. Follow your pattern to add the design; you can follow the free pattern or personalize by adding the baby's name or a special phrase. Using crafting wire, cut to desired length in order to hang the sign, and to secure the stars on either side of the sign. Leave enough wire in between to allow you to hang the sign. Curl the wire so that the stars remain secure.