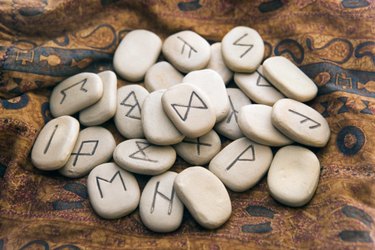 Use your creativity to make your own handmade Pagan craft projects. Make wood-burned trinket boxes to store your magical supplies or create your own unique set of Runes out of polymer clay. Add a personal touch to your spiritual tools and treasure boxes.
Wood Trinket Boxes
Create wooden trinket boxes by burning Pagan symbols, such as pentacles, Celtic knots, moons and goddesses into the wood. Trace an image onto the wood using transfer paper. Trace over the transferred image with a pencil. Using a pointed tip on your wood burning tool, draw over the traced design to burn the design into the wood. Burn any shading or details you desire. Brush wood stain onto the box and allow to dry.
Clay Runes
Create a set of runes (alphabetic letters) using polymer clay. Create flattened discs in any size and shape you desire out of clay. Inscribe a runic letter onto each disc, by pressing and dragging clay-modeling tools to draw the design. Create the entire alphabet and bake the clay. Paint the runes with acrylic paints if desired. Then, use a thin-tipped permanent marker to paint the details in the letters.