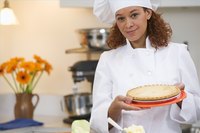 How to Make Potpourri Pie. These "pies" make great hostess gifts and, around the holidays, those little extras you love to give. Each pie costs around a dollar depending on the brand of potpourri you use.
Things You'll Need
Ribbons
Glue Guns
Hot Glue Sticks
Potpourri
Egg Whites
Flour
Salt
Old Pie Pans (pot Pies)
Pastry Brushes
Rolling Pins
Cutting Wheels
Use small pie pans such as potpie tins.
Make a dough of 2 c. flour, 1 c. salt and 1 c. water.
Roll the dough out to piecrust thickness, or about 1/4 inch thick.
Cut six 1/2-inch-wide strips with a knife or cutting wheel.
Turn the pie tin upside down and weave dough strips. You'll be creating a shallow dome.
Use an over-and-under pattern to weave three strips in one direction and three in the perpendicular direction.
Cut one strip long enough to wrap completely around the pan across the strips to anchor them.
Press the dough strip ends into this band.
Brush with egg white. This will give it a shiny look.
Bake at 325 degrees F until it's a nice golden brown.
Pry the crust from the pan gently.
Fill the pan with potpourri.
Place the fancy lattice crust on top.