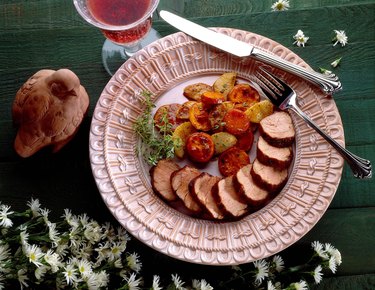 Lamb medallions may be made by boning a rack of lamb and cutting the meat into rounds that are about one inch thick. You may cook a whole boneless lamb loin and then slice it into individual portions or start with pre-cut medallions and use them in your recipe. Lamb medallions are amenable to grilling, pan frying, baking or cooking in stock. Serve the medallions with any number of sauces and vegetable accompaniments.
Step 1
Grill the lamb medallions. Season a large piece of lamb, a steak in this case, and let it marinate in oil and rosemary for about 10 minutes. Cook the lamb on high heat, for about three minutes per side for rare lamb. Remove from the heat, tent the meat with foil and let it rest for 10 minutes before cutting it into oblong (not quite circular) individual pieces. Serve with a lemony potato salad.
Step 2
Sear and bake a lamb loin after which you will cut the meat into medallions. Start with a cast-iron skillet that you have preheated in the oven. Add oil and sear a lamb loin that you have liberally seasoned with salt, pepper and herbs. Continue cooking in the oven for another 10 minutes for medium rare. Upon resting, slice into individual medallions. Make a creamy mustard sauce to go over the lamb and serve with roasted asparagus.
Step 3
Transform lamb medallions into a surprise package by flattening the medallions and rolling them in cabbage. Use a domed silicone mold if you have one to simplify the task, otherwise simply place the flattened medallion onto the cabbage leaf, add a small portion of minced fried shallots in the center, then roll up the bundle. Form four such bundles and brown in a casserole dish before adding lamb stock and simmering until done. Serve with potato dumplings and top with pesto.
Step 4
Pan fry the lamb medallions and deglaze the juices to make a sauce. Take lamb medallions that you have seasoned with salt and pepper and place them in a very hot saute pan to which oil has been added. Cook over high heat until the medallions are caramelized, turning them over to sear the other side in a similar manner, for about two minutes per side. Add butter and cook for another two minutes for medium rare. Transfer the meat and keep warm while deglazing the pan with prepared reduced stock made from bones. Add chopped olives to the finished sauce and pour over the medallions. Serve with eggplant caviar.