Things You'll Need
Paper plate or bowl

Paper cup (optional)

Toilet roll

Scissors

Glue

Thin cardboard sheet

Cutter

Key ring torch

Sticky tape

1 toothpick

Oil paints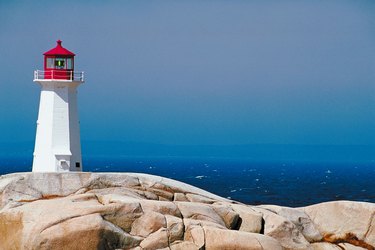 Lighthouses are simple structures and therefore can be an easy craft project as well. For this task, you can either use your crafting skills to shape your lighthouse out of a sheet of thin cardboard or use ready-made everyday materials. No matter what choice you make, you will still need to decorate the miniature lighthouse's exterior and, most importantly, create a realistic lantern room, as the main function of a lighthouse is to emit a strong beam of light to guide sailors.
Step 1
Turn the paper dish upside down. Paint its surface green, grey or pale yellow, depending on what your lighthouse is supposed to be built on. You can also glue small stones to give a realistic impression of a rocky terrain.
Step 2
Glue the open side of the paper cup to the middle of the dish. If you don't have a paper cup, form a 4-inch-tall cylinder with a slightly tighter top, using thin cardboard.
Step 3
Cut out half of a toilet roll to make the lantern room proportional to the rest of the structure. An adult must use a scissors to open rectangles on the top part of the roll for the room's windows. Stuff the lower part of the roll with cotton or paper. If you don't have a toilet roll, you can create the lantern room with a 1.5-inch-tall cylinder out of thin cardboard.
Step 4
Stick the lantern room on the cup's bottom or on top of the cardboard cylinder.
Step 5
Cut out a 1.5-inch circle from the thin cardboard sheet. Remove a small part of the circle, so that it resembles the video game character Pac-Man. Use sticky tape to merge the open radii (Pac-Man's lips) to complete the roof.
Step 6
Pierce the roof with a toothpick to make a lighting rod. Use sticky tape to adhere one side of the roof to the lantern house. This way you can open and close the roof whenever you want.
Step 7
Paint the lantern room and the roof the same color. The tower should be painted white.
Step 8
Tape the key ring to the underside of the roof so that the light is visible through your windows. Turn on the key ring flashlight and place it in the lantern room. Close the roof to complete your craft.