Things You'll Need
9-by-13-inch glass baking dish

2 tbsp. unsalted butter

Saucepan

2 large bowls

Whisk

2 eggs

2 tbsp. buttermilk

1/3 cup corn meal

1/3 cup whole wheat flour

1/3 cup corn starch

1/2 tsp. salt

1/2 tsp. black pepper

1/2 tsp. garlic powder

1/4 tsp. dill weed

2 lbs. fish fillets (such as cod or flounder)

Paper towel

Instant-read thermometer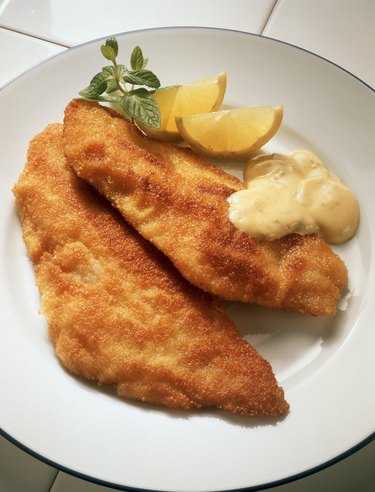 Fried fish can be great entree or sandwich item if made properly. A light, crispy batter adhered to moist, flaky fish fillets can be mouthwatering. However, a heavy batter combined with frying oil at too low of a temperature can lead to soggy, almost inedible fish. Deep frying is also not the most health conscious way to cook fish. However, a healthy alternative is to "oven fry" the fish. Proper preparation and the right ingredients can make oven-fried fish a weekly meal tradition in your house.
Step 1
Preheat the oven to 400 degrees Fahrenheit. Melt 2 tbsp. butter in a saucepan. Pour melted butter into a 13-by-9-inch baking dish. Coat well.
Step 2
Break open two eggs and mix well in a large bowl using a whisk. Add 2 tbsp. buttermilk to the bowl and mix.
Step 3
Add 1/3 cup corn meal, 1/3 cup whole wheat flour, 1/3 cup corn starch, 1/2 tsp. salt, 1/2 tsp. black pepper, 1/2 tsp. garlic powder and 1/4 tsp. dill weed in another bowl and mix well.
Step 4
Rinse fish fillets in water and pat dry with a paper towel. Place fish fillets in the milk mixture and leave in the bowl for about a minute. Dredge fish fillets in flour mixture and coat completely.
Step 5
Place fillets in the baking dish. "Oven fry" the fish for about 20 minutes. Check internal temperature with an instant-read thermometer -- fish should reach a temperature of 140 degrees Fahrenheit. Remove from oven and allow to rest for five minutes before serving.
Tip
Breadcrumbs, such as panko crumbs, or crushed cornflakes can be used as a substitute for corn meal.