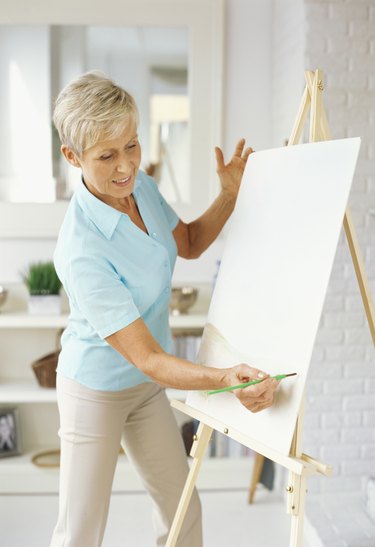 Cotton canvas is standard canvas made by weaving cotton, as opposed to linen or hemp. It is a heavy duty fabric used for making tents, backpacks, bags and other items designed to withstand stresses and strains. Dying cotton canvas is a great way of customizing any number of items so it matches clothing, room décor or a particular theme.
Things You'll Need
Canvas

Fabric dye

Salt

Hot water

Paddle

Soda ash
Step 1
Clean the canvas to remove any dirt and grease that will prevent the dye from taking hold. This can be done in a washing machine on a standard setting or however this item would normally be cleaned.
Step 2
Pour the water and salt in a suitable container. The size of the container depends on the amount of canvas being dyed. A bucket is suitable for canvas shoes, whereas a bathtub may be required for canvas tarpaulins. See the dye manufacturers' guidelines on how much salt is required. This will depend on the amount of water needed to submerge the garment. Some dyes will not require the addition of salt so do check before starting this task.
Step 3
Mix the dye in a cup to the manufacturers guidelines, pour into the water containers and stir well to combine all the elements.
Step 4
Plunge the canvas into the container and stir frequently for 20 minutes with a paddle.
Step 5
Combine soda ash and water and pour into the dying mixture gradually, over a 15-minute period. For each 1 1/2 gallons of dying water, a 1/6 cup of soda ash will be required. Make sure the soda does not come in contact directly with the canvas by pushing the fabric to one side to pour it in.
Step 6
Wash the fabric with cold water to remove excess dye and leave to dry. Once dry, wash in a washing machine.
Tip
Bleach the fabric first if dying it a lighter color in the same way as hair dye.
A second dying session may be required to get the fabric a darker color.
Increase the amount of dye in the water for richer, deeper colors and reduce for lighter, pastel shades.