Things You'll Need
10 Scented candles

3 Lowball glasses

5 Cupcakes

2 Lingerie outfits

2 Wine glasses

1 Bag of scented rose petals

1 Bottle of lavender chamomile aromatherapy

1 Massage kit

1 Birthday card

1 box of 3-inch-wide satin ribbons

1 Box of matches

1 Bottle of wine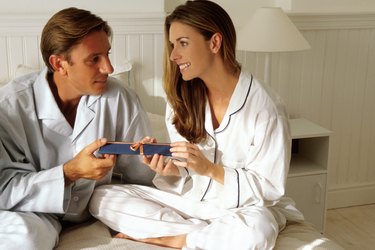 Show your boyfriend how much you appreciate and care for him by paying attention to his birthday. Make this special day unforgettable by taking him to a hotel. Men are known for being visual creatures. Appeal to his sense of sight by focusing on the hotel room's decor.
Step 1
Purchase five of your boyfriend's favorite cupcakes. Place three in lowball glasses and put candles on them. The cupcakes can replace a birthday cake. Place them on the nightstand. Place a bottle of wine, two wine glasses and the remaining two cupcakes on the nightstand as well. These are for dessert.
Step 2
Fill the room with candles. Ten white candles can be placed on the room's desk and along the windowsill. Light the candles 5-10 minutes prior to his arrival.
Step 3
Leave a trail of rose petals from the hotel door to the bed. Depending of the amount of petals remaining, make an additional trail from the door to the bathroom.
Step 4
Fill the bathtub with steaming hot water. When he arrives, it will be just the right temperature for a bath. Pour two teaspoons of aromatherapy into the water to relax his muscles. Do not exceed this amount or it might make him too drowsy.
Step 5
Place a white towel on the side on the bed. Put a bottle of massage oil and some hot stones on the towel. Lay out two different lingerie outfits so he can decide which one he would like to see you in for his birthday.
Step 6
Place his main present at the end of the bed. Have it wrapped in one solid color with a thick satin bow. Wrap two small presents and place them along the edge of the bathtub as previews to the big gift.
Tip
Give the room a thorough cleanup before decorating it. Give him wine and dark chocolate, or cook oysters and salmon as aphrodisiacs.
Warning
A nice glass of wine can be soothing, but make sure he does not drink too much and spoil the wonderful experience.