Things You'll Need
For Multi-Purpose Glue:

1 packet unflavored gelatin (1/4 oz.)

3 tbsp. water

1 tbsp. vinegar

1 tsp. glycerin

Small saucepan

Mixing spoon

Glass container with lid

For Wood and Glass Glue:

2 packets unflavored gelatin (1/2 oz.)

2 tbsp. cold water

3 tbsp. skimmed milk

Several drops clove oil

Small bowl

Small saucepan

Mixing spoon

Glass jar with tight lid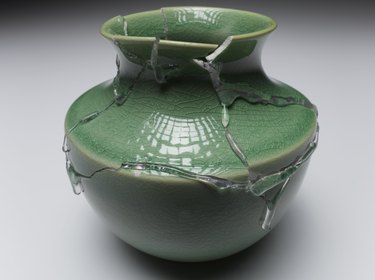 Gelatin is an animal-based product made up of collagen. The collagen, which comes from the connective tissue of animal bones and hides, is then broken down into protein. Although we most frequently think of gelatin as the jiggly dessert we ate as children, gelatin has a wide range of uses. Often an ingredient in cosmetics, medications, pastries and ice cream, gelatin's adhesive consistency makes it an ideal ingredient for glue. Gelatin glue is strong, resistant to water and simple to make. Learn how to make gelatin glue today and use it for all your household gluing projects.
Multi-Purpose Glue
Step 1
Boil water in a saucepan. Add gelatin, then stir until it's dissolved.
Step 2
Add glycerin and vinegar to the saucepan and mix well.
Step 3
Pour your glue into a lidded glass container. Glue should be used while it is still warm. For future use, rewarm the glue by placing it in a container of warm water.
Step 4
Use this glue for paper, cardboard, fabric, leather or plastic materials. This is an ideal glue for smaller crafts projects.
Wood and Glass Glue
Step 1
Pour cold water into a mixing bowl. Sprinkle gelatin into the water, then set it aside. Allow the gelatin to dissolve for about one hour.
Step 2
Heat the milk until it is hot, but not boiling. Pour the hot milk into the bowl of gelatin and water.
Step 3
Mix until the gelatin is completely dissolved. Add several drops of clove oil, which acts as a preservative, then stir.
Step 4
Pour your glue into a glass jar, and cover it tightly. Use the glue while it is warm. For future use, rewarm the glue by placing the jar in a container of warm water.
Step 5
Use this glue on heavier materials, such as glass, china and wood.
Tip
Apply glue using a small application brush. Each recipe makes about 1/3 cup of glue.
Warning
Glue containing milk should be discarded when it begins to smell sour.