Things You'll Need
Wall mural

Blue paint

Bucket

Mild dishwashing liquid

Clothesline

Decorative wall hooks

Scissors

Pushpins

Drriftwood

Sea glass

Starfish

Coral fishing lures or

Faux fish

Faux sea creatures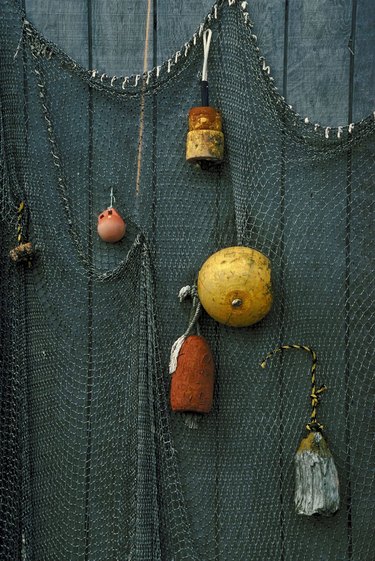 Hanging a fishnet from your wall is an attractive way to give the room a nautical or tropical look; handing seashells from the netting adds to the nautical appeal. This look is particularly effective if you hang or paint a mural of an ocean or lake scene on the wall before adding the fishnet and seashells. Other options include painting the walls an ocean blue shade before adding the decor or hanging an inexpensive poster depicting a seascape.
Step 1
Wash a used fishnet well by soaking it in a large bucket or bathtub with warm, soapy water for an hour or two. Swish the fishnet around for several minutes, squeezing the soapy water through it. Rinse it well and drape it over a clothesline or a table outside to allow it to air dry.
Step 2
Screw two decorative wall hooks into the wall at least four feet apart. The width depends on the size of the fishnet and the look you desire. If your fishnet is too large or bulky for the space, just cut it with scissors to make it smaller.
Step 3
Hang two opposite corners of the fishnet from the decorative hooks.
Step 4
Pull up one of the corners that is hanging down up to the top of the horizontal line formed by the fishnet. Center it between the two decorative hooks or several inches below them. Stick the net in place temporarily with a pushpin.
Step 5
Step back to look at your fishnet design. Create different looks by alternating short and long swags with the fishnet. An asymmetrical design looks more natural than one that is symmetrical.
Step 6
Replace the pushpins with decorative hooks that screw into the wall once you determine the best design for the fishnet.
Step 7
Place an assortment of large seashells into the folds created by the fishnet, or scatter them throughout the fishnet by gluing them in place with a hot-glue gun.
Tip
Add small pieces of driftwood, large pieces of sea glass, starfish or coral, fishing lures, faux fish, sand dollars and seahorses to the fishnet wall hanging to enhance the nautical look.
Old fish nets may still give off an offensive odor after washing them. You may have to repeat the cleaning a couple of times.
Instead of using an old fishnet, purchase a new one from a sporting goods store or online.