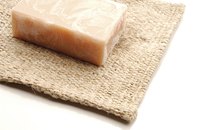 Adding coconut oil to your homemade soap helps the bar stay hard and your skin stay soft. Coconut oil is a key ingredient in soap making. Soap can be made without coconut oil; however, it would not be as nice as the coconut bar. A bar of coconut oil soap produces a nice lather that is fluffy and abundant. The oil of a coconut is light and gives your skin a glow. Coconut oil prevents premature aging and chapped skin. There are many wonderful soaps you can make with 8 oz. of coconut oil.
Things You'll Need
3.9 oz. lye
8 oz. water
Small mixing bowl
Plastic spoon
8 oz. coconut oil
8 oz. lard
Glass measuring cup, large
2 oz. castor oil
10 oz. olive oil
Stick blender
Soap mold
Wax paper
Knife
Pour the lye slowly into the water in a mixing bowl. Keep stirring while mixing the two ingredients.
Melt the coconut oil and lard in a large glass measuring cup in the microwave. Heat in 15 second increments until the contents have completely liquefied.
Add the castor oil and the olive oil to the coconut oil and lard mixture. Stir well to combine.
Pour the lye solution into the glass measuring cup that contains the oils and lard.
Blend with the stick blender until it achieves trace. The soap has traced when the oils, fats and lye have completely blended to the consistency of cake batter. They are no longer separate.
Pour the soap mixture into the mold. Cover with wax paper. Let the soap form and harden overnight.
Turn the soap out of the mold and slice with a knife into bars 1 inch thick.