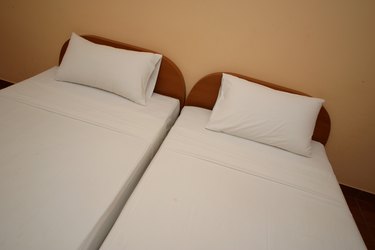 Many things can rob you of a good night's rest, one of them being a bed that doesn't fit your body, like a bed that's too short if you're tall. Luckily, if this is an issue for you, there are several solutions to the problem, including bed frame length extenders and a mattress extender for tall people. You can make a DIY mattress extender for several types of beds.
DIY Mattress Extender Ideas
Before you take more drastic or permanent steps, you can try some home solutions. First, you can set up some furniture at the foot of the bed and pad it to the height of your mattress. This method works exceptionally well if you don't have a footboard.
First, select a table or bench that is the same width as your mattress. Position it at the bottom of your bed and then pile soft items, like spare blankets, pillows and cushions, on top of it to be the same height as your mattress. You can even buy foam mattress extenders to mimic the look and feel of an actual mattress. You may need to tie the legs of the furniture to the legs of the bed to secure it in place if you find that it moves around while you sleep.
Next, measure the new length of your bed and shop for bedding that will fit. You might need to go a size up in sheets. For example, if you've made a king-size bed extension, buy sheets and blankets for a California king.
Bed Frame Length Extenders
If your bed has a built-in footboard, you might not be able to use the DIY mattress extender ideas without disassembling your bed frame. In that case, you can buy bed frame length extenders made for all types of beds, from twin to king. They also come in metal, plastic and wood bed rail extenders. That way, no matter the size and material of your bed, you have a solution that will work and fit with your bedroom design.
The trickiest part is buying the right set that will work with your current frame. Browse selections online and read installation instructions when possible. Inspect your existing frame to ensure that the extenders you select will install without a lot of hassle. If it is an option, visit the store or company website where you bought your bed. The manufacturer may make bed frame length extenders that are guaranteed to fit your frame.
Other Solutions for How to Lengthen a Bed
Many people don't realize that some bed frames are adjustable and can be bigger or longer. See if your bed frame is adjustable by inspecting it or reading the owner's manual. Sometimes, you can easily extend a twin bed to twin XL (extra long) or use parts that came with your frame as a bed frame extender for full to queen. You may need to get a new mattress, but that's usually worth it for a good night's rest.
Finally, you can take your bed frame to a welder or carpenter and have them extend it. Sometimes, that's the best solution for how to extend a wooden bed frame, especially if you're looking for a more permanent fix. If you're extending an antique bed frame, which is often too short by today's standards, ensure you find someone who has experience working with older furniture. You can likely find a local carpenter who has experience with pieces like this.