Things You'll Need
Table

Blankets

Rope

Bed rails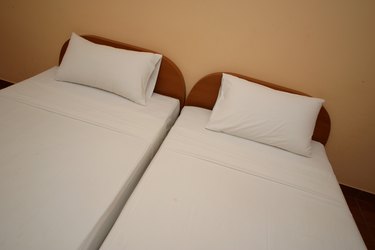 Lengthening a bed to accommodate a longer mattress is a way to either temporarily extend a short mattress for a tall sleeper, or modernize a small antique bed. With a little work, you can have the beauty and uniqueness of an old bed, and the comfort of a nice, long modern mattress.
Step 1
Set a table that is as wide as the bed and several inches shorter at the foot of the bed. Use rope to secure the back table legs to the feet at the foot of the bed. Top the table with folded blankets to pad the table and raise it to the height of the bed. This is a good way to temporarily lengthen a mattress for the comfort of a tall sleeper.
Step 2
Purchase standard-sized bed rails to replace the rails on antique beds. Antique beds are often designed for randomly sized or small-sized mattresses. Many were made during a time when mattresses were homemade to fit the bed. Others were manufactured during a time when people were smaller, and for double beds instead of the more standard queen or king of today. Antique headboards can be removed from their original rails and attached to modern rails to accommodate your longer mattress.
Step 3
Take your bed frame to a welder and have additional metal welded to it in order to make it longer. This is a good way to extend a twin bed into an extra-long twin, or an Eastern king into a Western king. If you have a frame that is not detachable from the headboards and footboards, this is a good option.