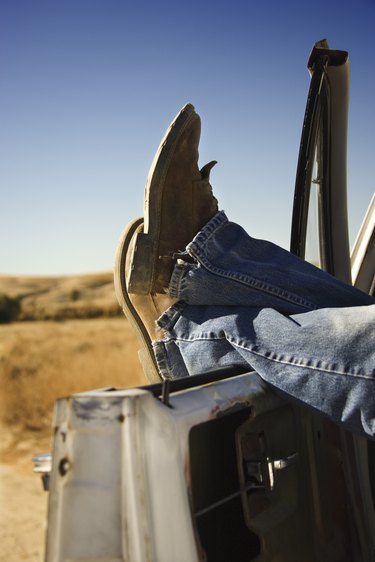 Jeans come in all different shapes and cuts. For example, you can purchase relaxed cut jeans for extra comfort or even boot cut jeans that have extra room at the bottom of the legs for your favorite pair of boots. But what if you want to wear those boots with a pair of slim cut jeans that don't have room in the legs? You can alter your jeans on your own to make room for your boots by cutting the seams near the bottom.
Things You'll Need
Fabric scissors

Fabric pencil
Step 1
Put on the pair of jeans you would like to alter.
Step 2
Put on the pair of boots that you would like to use as a guide to decide how far up you need to cut your jeans.
Step 3
Roll up the bottom of your jean legs until they rest just above the point where your boots widen at your feet. This is usually between half an inch to a full inch, depending on your leg size.
Step 4
Mark the inside and outside seams of each leg at the point where your jeans are rolled using a fabric pencil. This mark will wash off the next time you wash your jeans.
Step 5
Remove your boots and jeans.
Step 6
Unroll the legs of the jeans and cut along the back side of the inner and outer seams of each leg using a pair of fabric scissors. This small cut will fit the taper of your boots perfectly.