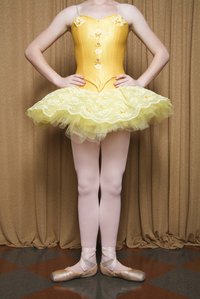 A variety of projects may require you to stiffen a net, from making the buoyant tulle under a ballet skirt, to forming a crocheted yarn net into a basket, to conditioning the heavy mesh of a lacrosse net. There are several different ways to stiffen netting, and you should pick the one that is most appropriate for your project.
Things You'll Need
Bottled fabric stiffener
Ziplock bag or glass bowl
2 cups sugar
Water
Saucepan
White glue
Paintbrush
Spray starch
Spray-on clear acrylic paint
Commercial Fabric Stiffener
Pour the solution into a ziplock bag or glass bowl.

Insert the net and saturate it with the solution.
Remove the net and wring out the excess solution.
Allow it to dry completely.
Sugar Solution
Mix 2 cups of sugar and 2 cups of water together in a saucepan.

Boil for 2 tp 3 minutes; then allow the solution to cool enough to handle.
Soak your net in the solution for around 15 minutes.
Wring out the netting and shape it.
Allow it to dry for at least 24 hours.
White Glue
Dilute white glue with water until you can easily apply it with a paintbrush.

Drape your net around an object (such as a glass bowl) that will give it the shape you desire.
Paint the entire net with the glue solution.
Allow it to dry until the glue is clear and stiff.
Spray Starch
Shape your netting if desired, then spray it thoroughly with spray starch.

Allow the starch to dry completely.
Apply additional coats until the desired stiffness is achieved.
Clear Acrylic Spray Paint
Shape your netting as desired; then spray it thoroughly with clear acrylic spray paint.

Allow it to dry completely.
Touch up or apply additional coats as needed.