Things You'll Need
Shirring tape

Fabric

Scissors

Iron

Pins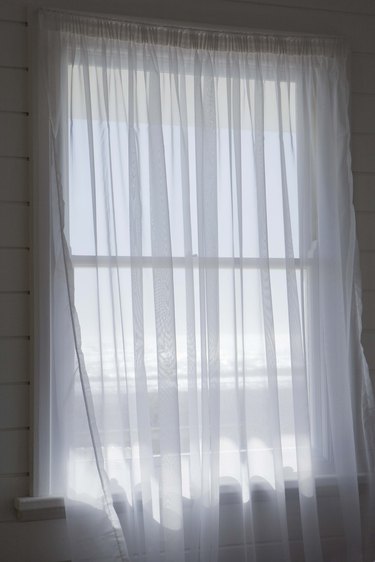 Shirring tape makes gathering fabric easier. With shirring tape, you can achieve an elegant, even gather for any type of fabric. Shirring tape is often used for drapery and other home purposes like skirts around sinks, tables or other furniture. While it may be used for apparel, keep in mind that it does not stretch. So while shirring tape could be used to make a gathered skirt, for example, it would still be necessary to fit the skirt exactly and add a zipper or other fastener.
Step 1
Hem sides and bottom of whatever you are sewing your tape onto. Save the top for last. Remember to use sufficient yardage to account for the gathers.
Step 2
Fold the top down to the wrong side about one inch and pin. Do not fold it twice as this will create excess bulk and interfere with the shirring. Press the fold down.
Step 3
Pin the shirring tape across the top of the fabric where you pressed. Leave about 1/4 inch between the top of the shirring tape and the top of the folded fabric. Leave about 1/2-inch excess tape at either side.
Step 4
Sew tape in place, stitching on both sides of every cord and taking care not to sew on the cord itself. If you accidentally sew on a cord, stop immediately and rip out your stitches.
Step 5
Knot cords on one end. Pull cords on the other end, all at the same time, until you have reached the desired fullness. Depending on the type of shirring tape, you will see either plain gathers or a diamond pattern on the right side of the fabric when shirred.
Step 6
Trim the loose ends of the shirring tape to about 3/8 inch. Fold them in and sew them in place.
Tip
If you are using sheer fabric, use translucent shirring tape.