Things You'll Need
1-inch wide elastic

6 to 8 yards of tulle

Scissors

Needle and thread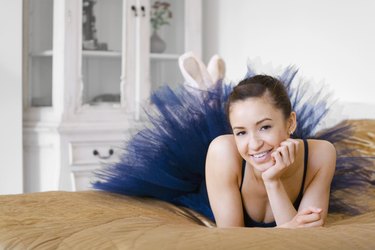 Tutus are the short, layered tulle skirts that are an essential part of a ballerina's costume. However, they also make fabulous, funky skirts for teens. They are inexpensive to make, and can be created by the teen herself and adapted to suit her style. Make pretty tutus in pastel colors, Gothic tutus in black and red, or fun tutus in bright multi-colors.
Step 1
Measure around the teen's waist. Take 2 inches off the measurement and cut a piece of 1-inch elastic to that length. The elastic stretches when the tulle is tied to it. Sew the ends of the elastic together securely with the needle and thread.
Step 2
Prepare the lengths of tulle. Cut strips of tulle measuring 6 inches wide. The length of the strips depends on how long you want the finished skirt. Teens often want the skirt to be fairly short. If you want a skirt with a finished length of 15 inches, cut strips of tulle 30 inches long.
Step 3
Place the length of elastic around a large bucket or the back of a chair. This makes it easier to work on, as it leaves your hands free to tie on the tulle.
Step 4
Knot the lengths of tulle to the elastic one at a time. Take a strip of tulle and fold it in half lengthwise. Place the point of the fold under the elastic to make a small loop. Take both ends of the tulle strip and pass them through the loop to make a slip knot. Align the knots on the same side of the elastic.
Step 5
Continue working around the elastic, knotting on strips of tulle. Push the knots close together; the closer the strips, the fuller the finished skirt. Work in one solid color, alternate colors randomly, or in a set pattern.
Step 6
Fluff the finished skirt out and trim off any untidy ends.
Tip
Tie lengths of ribbon among the tulle for a different look. Add embellishments such as flowers, pom poms, glitter, ribbon bows or rhinestones. Sew or glue them in place with fabric glue.