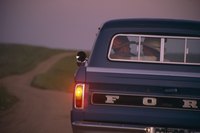 Side mount tool boxes increase the storage capacity of a standard pick up truck. Unlike a crossover, or saddle type, box that extends from one side of the pickup bed to the other, the Kobalt side mount box is mounted long the length of one side of the truck bed, called the rail. In order for the box to be stable, it must be bolted into the side of the truck box, and mechanically supported by the truck bed.
Things You'll Need
Electric or cordless drill and 3/8-inch metal drill bit
Socket set
Self adhesive foam tape
Mounting kit, or galvanized, perforated steel L-bar stock.
3/8-inch nylon bolt plugs
Assorted 3/8 by 1-1/2 inch hex head bolts with lock nuts and washers
Pocket torpedo level
Pull the paper facing off the self adhesive foam tape, and stick it to bottom surface of the Kobalt tool box which will rest on the side of the truck box, called the rail. If your truck has a plastic or sprayed-on truck bed liner, this step can be skipped.
Set the Kobalt truck box in place, and verify the placement. Identify the center line of the truck bed rail.
Drill down through the truck box, through the bottom surface of the box resting on the truck bed rail, and all the way thought the pickup truck box side rail. Drill four 3/8-inch holes so the box can be bolted to the truck rail. Insert nylon bolt plugs into the holes, and bolt the took box to the truck rail using 3/8-inch bolts and washers.
Identify the holes in the truck box which are at the bottom-most corners of the tool box. In most Kobalt truck boxes, these holes are pre-drilled for the truck box support kit.
Attach the support bracket to the tool box, and tighten the bolts finger tight.
Prop the tool box up so that it is level, then line up the support bracket on the truck bed. Mark the holes in the bracket in the truck box bed. Drill 3/8-inch holes into the truck box bed, insert the nylon bolt plugs, then bolt the bracket to the truck box.
Tighten all the bolts with a socket set to ensure the tool box is secure.