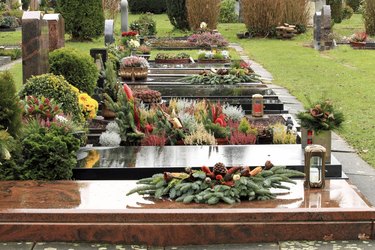 The ceremonial laying of a wreath at a grave site or memorial is practiced around the world. Heads of state, the U.S. president, military and veterans honor departed members of the armed forces or society by laying a wreath of flowers and greenery at the site. There are a few basic instructions you or your group should follow when honoring the life or lives of the deceased. Ceremonial wreath laying takes place on Memorial Day, at a memorial service or to mark a specific date when an event took place.
Step 1
Order the ceremonial wreath from a florist or make preparations for members of your group to create the piece. Cedar is often used as a component in memorial wreaths.
Step 2
Plan the order of the ceremony, including any music or public speaker who will be part of the event. For instance, a small-town memorial parade unit may stop in front of a monument that honors all deceased military members. A minister will offer prayer and the veterans membership or auxiliary will lay the wreath at the foot of the stone.
Step 3
Send invitations to government officials, law officers, firefighters, military members and concerned community members, in accordance with the type of wreath ceremony you are planning. For instance, if you are planning a wreath-laying for a state event for a firefighter or police memorial you may invite a senator or the governor to place the wreath at the memorial site. Arrange for security.
Step 4
Book a trumpet player or band to play Taps. Request that a veteran, state police honor guard or member of the military take part in the ceremony. A Boy Scout troop may also be invited to participate: During the Wreaths Across America ceremonies at Christmastime, Boy Scouts place hundreds of wreaths on individual graves at cemeteries.
Step 5
Set up an easel in front and to the side of the memorial stone at least 20 minutes before the ceremony is to take place. Ensure the area is clean and neat.
Step 6
Wear a dress uniform, auxiliary uniform or formal clothing when taking part in a wreath-laying ceremony.
Step 7
Carry the wreath to the easel or foot of the stone as you walk solemnly forward. Two people should carry a heavy wreath to prevent it from falling when placing it on the easel. Set the wreath on the easel or lay it by or on the stone. Take a step backward and salute the stone that represents the person or persons whose memory is being honored. If you are nonmilitary, bow your head in respect.
Tip
If a flower falls from the wreath when you are placing it, let it lie on the ground. Pick it up after the ceremony is over.