Things You'll Need
1 lb. shredded carrots

1/2 cup salt

2 cups white vinegar

2 large cooking pots

Colander

Dryer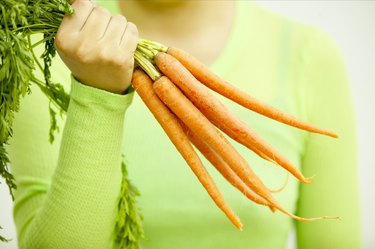 If you want to dye a plain white cotton shirt but don't want to expose yourself or the environment to toxic chemical dyes, use shredded carrots to dye the fabric orange. The brightness of the dye is determined by how many carrots you use and how long you leave the fabric in the dye bath. Another factor in how well your carrot dye takes is the mordant you use. Mordants are fixatives that help the dye saturate the fabric.
Step 1
Boil 8 cups of water in a large cooking pot for each pound of fabric. Add 1/2 cup of salt and 2 cups of white vinegar.
Step 2
Add the fabric to the fixative and allow it to simmer for one hour.
Step 3
Pour off the excess water and place the wet fabric in another cooking pot. Add enough cold water to cover the fabric.
Step 4
Add the shredded carrots to the water and bring it to a simmer. Leave the fabric in the water for two hours, stirring occasionally.
Step 5
Strain the mixture through a colander. Throw away the carrots and rinse the fabric with cold water for five minutes. Dry the fabric in a hot dryer to set the dye.