Things You'll Need
Medium sauce pan

Water

Stove top

Small sauce pan

Old candles

Knife

Cooking thermometer

Hemp string

Pencil

Pebbles

Quarters

Bowl

Jar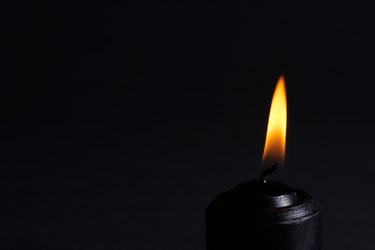 You can make your own candle wicks out of hemp to save money on buying wicks for your homemade candles. Hemp string is already stiff and dry, so you won't need to treat it the way you would if you were making wicks out of cotton string. Use a basic technique for coating the hemp so it will burn slowly, the way a candle wick should. The type of wax you use to coat the strings doesn't matter, so you can use pieces of old, burned down candles that you can no longer use.
Step 1
Fill a medium sauce pan with 3 inches of water and bring it to a boil on the stove. Cut up pieces of old candles and put them into a small metal pan so that you have about 2 inches of chopped candle pieces in the bottom. Place the small pan with the candle pieces into the middle of the medium pan.
Step 2
Stir the wax constantly with a metal spoon to help the wax melt evenly. Check the temperature of the wax with a cooking thermometer to make sure it doesn't rise above 250 degrees Fahrenheit. Once the wax has melted all the way, turn the heat down to the low setting.
Step 3
Measure and cut lengths of hemp string to 5 inch pieces and tie the ends to a pencil. Tie the other ends of the strings to a weight, such as pebbles or quarters, to keep the hemp hanging straight.
Step 4
Place the pencil on the edges of the small pan so that the weights dip into the melted wax and the ends of the hemp strings stay straight in the wax. Let the hemp soak up the wax for 10 minutes and pull the pencil up so that the strings hang above the pan to allow the excess to drip off.
Step 5
Hang the ends of the pencil across a bowl or jar so that the wax coated hemp strings can dry. Wait 2 hours before cutting the wax coated hemp to the lengths you need for your candles.