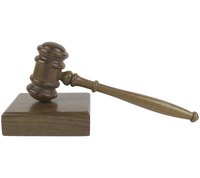 Auction paddles are used in auctions to help an auctioneer and his assistants keep track of the bids. Auction paddles are made with handles so that an auctioneer can easily see a bidder's number. A bidder holds up the paddle when interested in an auctioned item so the auctioneer will know who has bid. Paddles are fairly simple and inexpensive to make. You'll be ready for your next auction in no time.
Things You'll Need
Black paint
Paint stirring sticks
White posterboard
Paint the paint stirring sticks with the black paint. Allow the paint to dry.
Cut the posterboard into two even-sized rectangles that are large enough to be seen in a crowd, such as the size of a standard piece of paper (8.5 x 11 inches).
Write the assigned number on both pieces of posterboard. Glue the paint stirring stick to the blank side of one of the pieces of posterboard.
Glue the backside of the other piece of posterboard to the back of the other piece. Allow the glue to dry before using the paddle.