Things You'll Need
Lycra

Craft paint conducive to Lycra (i.e. Jones Tones Craft Paint)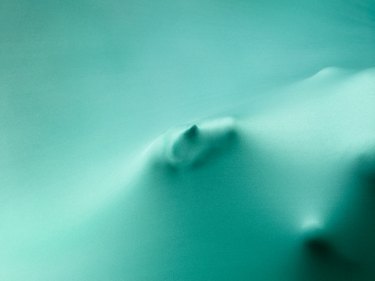 Lycra is a type of fabric characterized by its stretch fibers. It is a type of spandex known for its ability to stretch significantly yet retain its shape. Lycra is lightweight and comfortable, but it is slightly difficult to paint on. Because regular fabric paint cannot be used on Lycra, a specific type of paint must be used instead.
Step 1
Wear or stretch the piece of Lycra to the extent it will be stretched when worn. The fabric must be painted in this state so the paint does not crack when the fabric is stretched after painting.
Step 2
Squeeze the craft-paint bottle gently but with even pressure to begin the flow of paint. Craft paint that is conducive to Lycra generally has a texture and is similar to puffy paint, and therefore the painted surface will be slightly raised. However, the paint will not crack or peel off of the fabric, making it the best choice for Lycra. Test the craft paint on a piece of paper or scrap fabric before beginning to paint on the Lycra.
Step 3
Paint the outline of your image on the Lycra and allow to dry.
Step 4
Use as many colors of craft paint as you would like to complete your image. Keep the Lycra stretched while you are painting and while the fabric is drying. To retain the image, it is best to keep the Lycra stretched for as long and as frequently as possible.