Things You'll Need
3-quart pot

6 tablespoons water

2 packets unflavored gelatin, 1/2 ounce each

2 tablespoons white vinegar

2 teaspoon glycerin

Food coloring (optional)

Glass jar with lid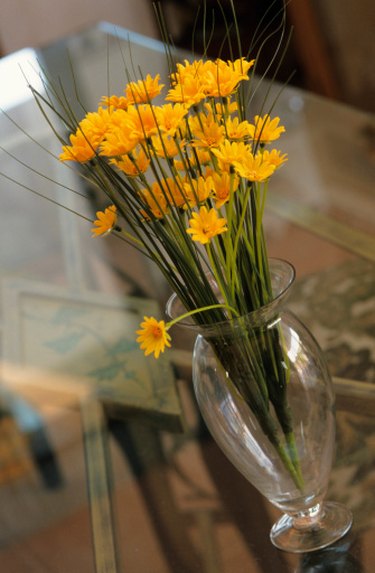 Silk flowers appear more realistic if there is water in the vase. Using water won't hurt the plastic-coated flower stems, but it won't hold your arrangement in place, and you must change the water regularly as it gets low or cloudy. Instead, make a glue that will simulate water and will help keep your flower design firmly in place. Add decorative river rocks or marbles at the bottom of the vase to help secure the flowers and use less glue.
Step 1
Pour the water into the pot. Place the pot on the stove. Heat the water until it begins to boil.
Step 2
Remove the pot from the hot burner. Slowly stir in both packs of gelatin until they have completely dissolved. The gelatin should be unflavored so it will solidify as clear as possible.
Step 3
Add the vinegar and glycerin to the gelatin mixture. Stir until the mixture is completely incorporated.
Step 4
Add two to four drops of food coloring to the mixture. Stir well. The glue won't dry completely clear, so most people add two drops of blue food coloring to simulate water. Use another color to complement your decor, if desired. The more food coloring you add, the darker the glue will be when it dries.
Step 5
Pour the mixture into the glass jar to cool. Seal the lid tightly to store the glue. It will dry to a gel state after about 24 hours.
Step 6
Fill a pot with water and heat it to a low simmer. Remove the jar's lid and place the jar in the warm water. This will liquefy the gel-like glue. Pour as much glue as you need into your vase, then arrange your flowers and allow the glue to dry. Store the remaining glue in the sealed jar away from heat.