Things You'll Need
Measuring tape

Fabric

Scissors

Iron

Sewing Machine

Thread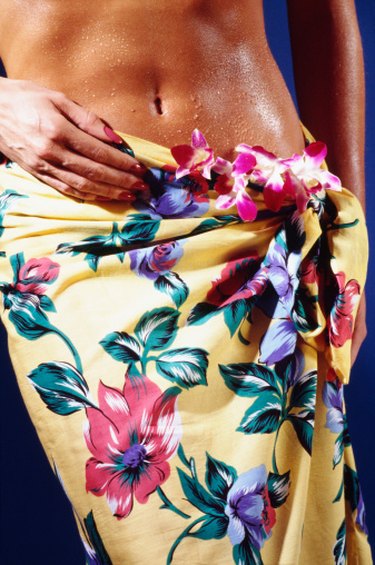 Magic skirts, or sarongs, are versatile one-size-fits-all items that can add whimsy to your wardrobe. Magic skirts are traditionally made from silky fabrics; however, the skirts can also be made using any texture or pattern of fabric you like. With dozens of different ways to wrap the magic skirt, it's an entire wardrobe in one. In addition to adding some style and flare to your attire, magic skirts make an appropriate sewing project for beginners.
Step 1
Measure around your waist. Multiply the measurement by two, and add 2 inches. This is the width of fabric required.
Step 2
Measure from your waist down to whatever length you would like your skirt to be. Add 1 inch to account for the hem.
Step 3
Lay the fabric out flat on a hard surface. Cut the fabric with scissors in a diagonal line. One end should correspond with the measurement taken in Step 2 and the other end should measure 14 inches.
Step 4
Cut two additional pieces of material measuring 2 1/2 inches by 12 inches each. Fold each piece in half with the right side facing inward. Crease the fold with an iron set to the appropriate heat level for the fabric. Hem each piece along three sides sewing by hand or using a sewing machine with a zigzag stitch. Turn both pieces right side out and press with the iron. These will be your magic skirt's ties.
Step 5
Iron a hem along the two vertical sides of the skirt and sew each hem. Repeat this along the bottom edge of the skirt. Iron a 1-inch crease along the skirt's top edge for the waistband.
Step 6
Pin a tie to each end of the waistband. Create your waistband by pressing in 1 inch of fabric at a time, sewing and pressing the hem each time.
Tip
Magic skirts don't need to stay below the waist. Try different wrapping techniques to use the piece as a scarf, shawl, top or jacket.