Things You'll Need
Soft cloths

Mild detergent

100-grit sandpaper

220-grit sandpaper

Mineral spirits

Oil-based primer

Oil-based paint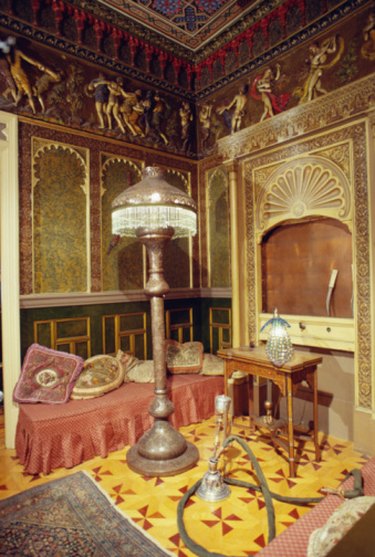 Stiffel lamps first debuted in 1932. They are the design work of Ted Stiffel, founder of the Stiffel company. Stiffel lamps come in a variety of styles and sizes. For example, just as there are Stiffel lamps in floor lamp, table lamp and desk lamp sizes, there are Stiffel lamps that are modern, classic, antique and other styles to suit a variety of decors. If you have an older or antique Stiffel lamp, refinish it to complement your decor, or simply to spruce it up.
Step 1
Unplug the lamp and unscrew the lamp shade, setting the shade aside in a safe place. Dampen a soft cloth in warm water and add a dot of mild detergent to the middle of the cloth. Rub the sides of the cloth together, distributing the detergent evenly.
Step 2
Wipe down the base of the lamp, removing old, caked-on polish or dirt and dust. Rinse off your cloth and wipe down the lamp again to wipe it clean.
Step 3
Sand the lamp with 100-grit sandpaper for wood, metal or brass, depending on the material your lamp is made of. Repeat with 220-grit sandpaper.
Step 4
Moisten a soft cloth with mineral spirits. Wipe down the lamp base to remove the dust from sanding.
Step 5
Spray your lamp base with an oil-based primer designed for the material that the lamp consists of. For example, if your lamp is metal, use a primer designed for metal. If it's wood, use a primer for wood. Allow the primer to dry for four hours.
Step 6
Spray your lamp with an oil-based paint in the color of your choice. Use a matte, glossy or metallic paint. If you just want a hint of color and a lot of shine, use a glaze. Allow the lamp base to dry for 24 to 48 hours.