Things You'll Need
Stencils

Tape

Acrylic enamel paint

Paint brushes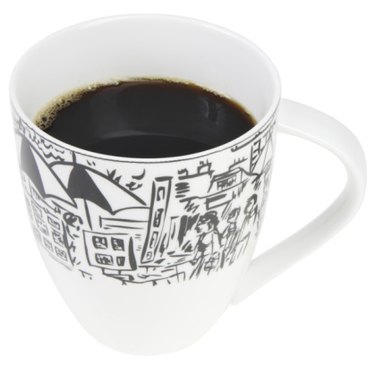 Decorate coffee cups for colorful accessories to match your home kitchen. You can make hand-decorated cups in a set for a family breakfast basket or as an individual gift. The painted mugs are nice for a shower, birthday or Christmas gift. You can paint freehand designs or use stencils on the cups to create decorative patterns of flowers, animals, leaves, characters or stripes. Add a special touch by personalizing the cups with a name or title.
Step 1
Wash and thoroughly dry the coffee cups. This will remove any trace of manufacturing materials that will keep the paint from adhering properly to the cup surface.
Step 2
Cover the work area with newspaper sheets. Set the cups, paint bottles and brushes out on the paper.
Step 3
Tape a stencil of an image or word to the cup. Dip the tip of a paint brush into a paint pot. Paint along the edge of the cut-out stencil image.
Step 4
Draw the outline of a freehand shape with the brush tip if you intend to paint one onto the surface of the cup as a substitute for a stencil. Encourage young children to dip a finger or thumb into paint to add prints onto the cup. Details such as facial features can be added to a thumbprint animal or character after the image dries.
Step 5
Fill in the outline of the object that you are painting with additional colors. If you make a mistake, you can quickly remove paint from the cup surface with a damp paper towel. Let the painted cup surfaces dry for at least 72 hours.
Step 6
Place the cups on an aluminum baking tray and set them in a cold oven. Turn the oven to 350 degrees Fahrenheit. Bake for one hour or according to the enamel paint manufacturer's package directions. Baking will thoroughly dry the paint. The painted cups can also be air-dried for several days.
Tip
Kits with paint and sealants for painting cups and mugs can be found at craft stores.
Warning
Read the directions on the paint package. The paint may stain clothing. Children should wear a paint shirt or old clothing.