Things You'll Need
Freezer-safe dish

Plastic wrap

Heavy-duty aluminum foil

Oven-safe container

Food thermometer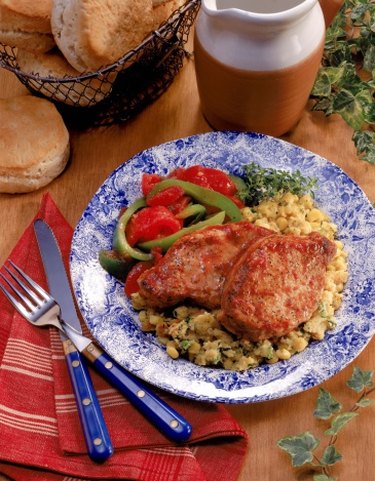 Many different versions of cornbread dressing exist because most people adjust the recipe to suit their tastes. Cornbread is the main ingredient in the dish and other ingredients such as onion, celery and herbs are added. Preparing the dressing from scratch takes time. Once you make cornbread stuffing, prepare it for the freezer to enjoy the dish later. Making the dressing ahead of time allows you to focus on other aspects of a large meal.
Step 1
Prepare the cornbread dressing according to your recipe.
Step 2
Allow the prepared dressing to cool to room temperature.
Step 3
Cover the freezer-safe dish with plastic wrap. Wrap heavy-duty aluminum foil around the plastic wrap to seal it tightly.
Step 4
Place the dressing into the freezer.
Step 5
Remove the dressing from the freezer when you are ready to prepare it. Defrost the dressing in the refrigerator overnight for best results.
Step 6
Remove the packaging from the cornbread dressing. Place the dressing in an oven-safe container. Heat the oven to 350 degrees Fahrenheit. Bake the dressing in the oven until it reaches a safe temperature of 165 degrees Fahrenheit.
Tip
Spray the bottom a freezer-container with non-stick spray to make the dressing easier to remove.
Drain and wipe off any condensation that has built up inside the freezer container before you reheat the dish.
If the dish you prepared the cornbread dressing in is not freezer-safe, pour the dressing into a disposable foil container.
Warning
Do not let prepared cornbread dressing sit out for longer than two hours because dangerous bacteria may form.