Things You'll Need
Brown coconut

Drill (or you can use a hammer and nail instead)

Sandpaper

Dry brush

Cup

Hand saw or cleaver

Spoon

Acrylic craft paint

Markers (optional)

Glue gun

Acrylic spray fixative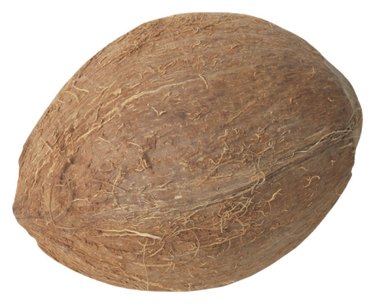 If you plan on throwing a Hawaiian luau party, you can decorate coconuts to give away or use as a centerpiece. Decorating coconuts makes an excellent crafts project for your children as well. You can also mail a decorated coconut as a gift to a friend or loved one. It is possible to decorate a coconut using a few items you can purchase at an arts and crafts supply store.
Preparing the Coconut
Step 1
Remove any fiber strands on the surface of the coconut shell with your fingers. Scrub the coconut with a dry brush to remove any dirt, bugs or small debris. Sand the entire coconut shell using sandpaper to smooth the surface.
Step 2
Drill a hole or hammer a nail into one of the eyes of the coconut to drain the coconut juice. Transfer the juice to a cup and consume or discard.
Step 3
Saw the coconut in half using a hand saw or split it in half using the backside of a cleaver. Scrape out the coconut meat with a spoon and consume or discard. Set the coconut halves aside and let them air-dry for about two days.
Step 4
Attach the coconut halves together using hot glue (glue gun). Set aside for about two hours before decorating.
Decorating the Coconut
Step 1
Apply a base color using acrylic craft paint on the coconut. Paint one side of the coconut with any color you like. Let it dry for a few hours, then paint the other side.
Step 2
Paint or draw an image on the coconut. Use permanent colored markers if you want to draw on the coconut. Draw tropical-themed images such as palm trees, volcanoes, islands, fish, dolphins or any image you want.
Step 3
Glue small pieces of colored fabric on the coconut. For example, cut small T-shirt, palm tree or dolphin shapes out of fabric and hot glue them to the coconut.
Step 4
Paint or write a greeting on the coconut. If you plan to send the coconut to someone, write a greeting such as: "Greetings From Florida" or "Greetings From Hawaii."
Step 5
Spray the entire coconut with an acrylic spray fixative to protect the coconut from moisture and damage. You can purchase acrylic spray fixative at an arts and crafts store.
Tip
You can purchase brown coconuts at a large chain health food store or Asian supermarket.