Things You'll Need
Cardstock

Scissors

Safety pin

Stamps, stencils or markers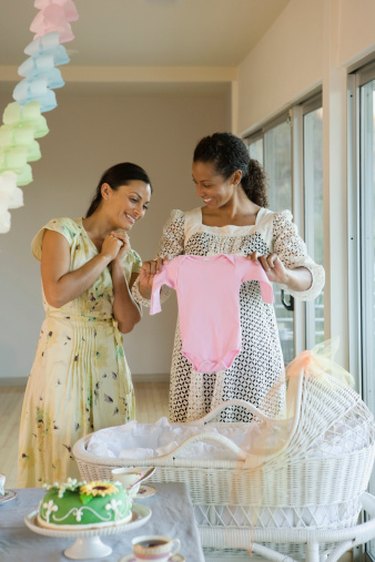 Paper diapers serve many purposes in baby showers. They are used as name tags, place settings and in games. Some baby showers even feature homemade paper diapers as favor holders, napkin holders and table decor. With a simple pattern, you can make a paper diaper with any type of paper you have available and in any color. These little diapers are cute additions to any baby shower.
Step 1
Cut a piece of cardstock into a triangle.
Step 2
Hold the triangle so that one point faces down.
Step 3
Fold the down facing point up so that it is flush with the top of the triangle.
Step 4
Fold the two side points inwards at a slight angle so that the two points overlap by 1/2 inch to 1 inch, depending on your preference.
Step 5
Finish the paper diaper by securing the two side points together with a safety pin.
Step 6
Decorate the diaper by adding your own designs either with stamps, stencils or markers. If the baby shower has a specific theme, use that as inspiration for the decorations. Write the mother's name and date of the baby shower in colorful ink to personalize the small diapers for the event.
Tip
Try using felt as an alternative to paper.