Things You'll Need
Measuring tape

Fabric

Scissors

Needle (optional)

Thread (optional)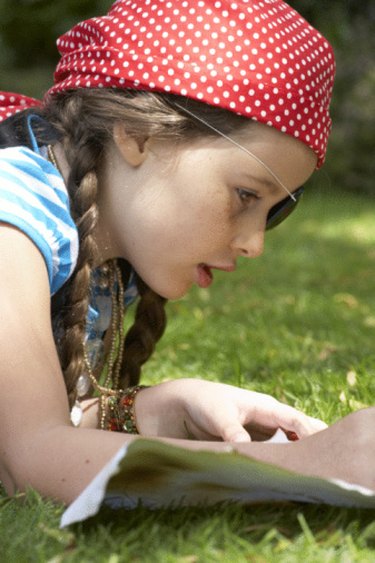 A pirate sash is a garment that a buccaneer ties around his waist. Not only is the sash a place to stash a cutlass or a dagger, it also adds some charm and a bright splash of color to his costume. If you are getting ready for a pirate party or your child has an event where he wants to look properly piratical, make a quick and easy pirate sash. Depending on how fast you need the sash, you do not even need to sew it.
Step 1
Measure around the waist of the person who is going to be wearing the pirate costume.
Step 2
Double this measurement and add 6 inches to it.
Step 3
Cut out a rectangle of fabric that is as long as the measurement you found in Step 2 and 6 inches wide.
Step 4
Finish the the raw edges of the sash if you wish by folding down the the long edges twice and sewing them flat.
Step 5
Fringe the ends of the sash by making multiple cuts into the short ends of the fabric. Alternately, you can finish the ends of the sash by folding the short ends down twice and sewing them flat. At this point, the sash is ready to be worn.
Tip
Choose a satiny fabric for the sash to give the pirate costume some shine.