When you are organizing a beach party or tropical luau, you can make the event more festive by putting out thematic party decorations, such as artificial pineapples. Although you can buy fake pineapples from a party supply store or online merchant, they are often overpriced. One solution is to make your own artificial pineapple decorations using materials that can be purchase inexpensively at your local craft store. This can save you money while allowing you to decorate your party beautifully.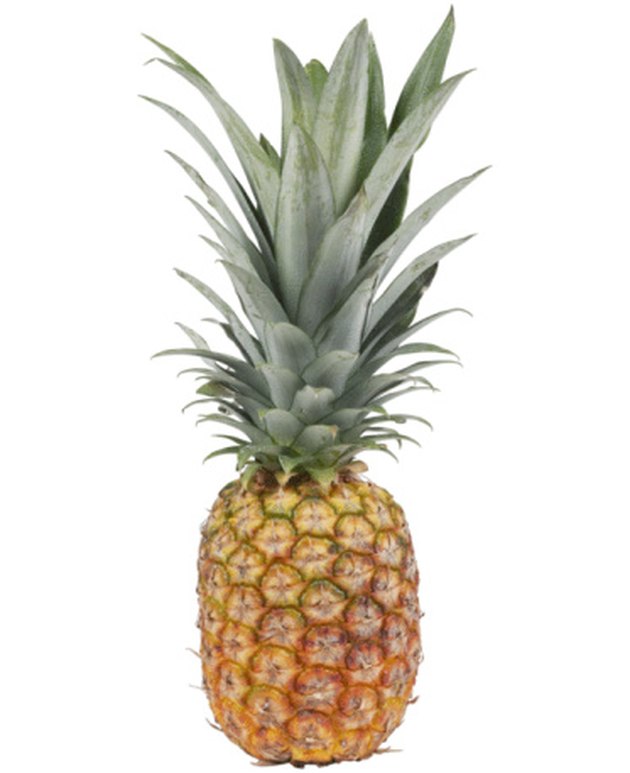 Things You'll Need
Balloon

Saucepan

Flour

Salt

Spoon

Newspaper

Scissors

Crepe paper, yellow

Tacky glue

Crepe paper, green
Step 1
Inflate a balloon until it is 6-by-12-in., and tie the end. Set the balloon aside.
Step 2
Fill a saucepan with 1 c. flour, 1/2 c. salt and 2 c. water. Heat the mixture over medium heat until it boils, and then turn the heat to low. Simmer the mixture for 5 minutes, and then take the saucepan off of the heat. Allow the mixture to cool for 30 minutes.
Step 3
Cut newspaper into pieces that each measure 2-by-6-in.. Dip each piece of newspaper into the flour mixture, and lay carefully over the balloon. Repeat to cover the balloon with six layers of coated newspaper pieces. Allow the balloon to dry for 6 hours.
Step 4
Cut yellow crepe paper into 1 in. equilateral triangles. You will need 20 to 30 yellow crepe paper triangles per pineapple.
Step 5
Cover the surface of the balloon form with tacky glue.
Step 6
Place a line of yellow triangles around the circumference of the balloon to create a ring of triangles. Allow the tips of the triangles to hang freely, only attaching one edge of each triangle to the balloon.
Step 7
Repeat to cover the entire balloon with yellow crepe paper rings. Once finished, the pointed tips of the triangles will hang out like the spikes on a pineapple. Allow the glue to dry for 30 minutes.
Step 8
Cut green crepe paper into four strips that each measure 3-by-8-in. Cut one end of each strip to make it pointed.
Step 9
Curl the pointed end on each green crepe paper strip over with your hand. These will become the green leaves of the pineapple.
Step 10
Apply tacky glue on to the top of the balloon pineapple, and press the flat ends of the crepe paper leaves on to the tacky glue. Hold the leaves in place for 5 minutes so the glue can dry and hold the leaves in place.
Step 11
Repeat the entire process to make as many pineapple decorations as you need for your event.