Things You'll Need
Waxed paper

Scissors

Small cardboard box

Larger cardboard box to contain smaller box

Plastic foam chips or popcorn

Wrapping paper

Packing tape

Mailing label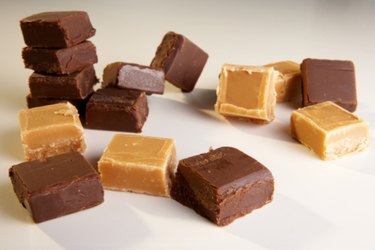 Fudge makes a welcome gift at any time of the year. Homemade fudge keeps fresh for up to two weeks, which means you can send it to friends and family via mail. If you keep a few simple things in mind when packaging fudge for shipping, it should arrive at its destination in good condition.
Step 1
Select freshly made fudge, ideally cut in slabs to fit the smaller packing box. Wrap each slab in waxed paper; if you cannot get it in slabs, wrap small pieces individually.
Step 2
Cut waxed paper to line the bottom and sides of the box. Leave enough paper to fold over the top of the fudge. Place the wrapped fudge in the lined box. Stack one layer on top of another.
Step 3
Fold the loose flaps of waxed paper over the top of the stacked fudge. Seal it in place with packing tape.
Step 4
Close the box and seal it. Fill any empty spaces with lightly crumpled waxed paper so the fudge can't shift in the box.
Step 5
Place the package of fudge in the large cardboard box. Pack plastic foam chips or popcorn around it to absorb any bumps and knocks. Seal the box with packing tape.
Step 6
Wrap the large cardboard box in the wrapping paper and seal it with packaging tape.
Step 7
Label the box "Perishable" on all sides. Write the addresses of both the sender and the recipient on the mailing label and stick it on the box.
Step 8
Mail the boxed fudge through a private shipping company or the U.S. Postal Service.
Warning
Avoid mailing fudge during very hot and humid weather as it will sweat and lose its freshness. If this is not possible include some moisture absorbers (approved for food use) inside the outer package.