Things You'll Need
Frosting

Semi-sweet chocolate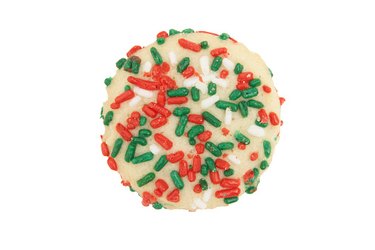 Baking cookies is one way to get creative and satisfy the cravings of a sweet tooth. Decorated cookies can be topped with an assortment of items, including rainbow or chocolate sprinkles. To help ensure the sprinkles on your cookies come out of the oven still looking like sprinkles are on the cookies and not a melted mess of rainbow colors or chocolate, there are a few tricks you can employ to ensure your sprinkles stay looking like sprinkles on your cookies.
Step 1
Use small quantities of sprinkles in the batter. Watch the cookies bake in the oven, checking on the cookies every five minutes. Consider decorating cookies after they have been baked and cooled.
Step 2
Try baking the cookies plain, without sprinkles. Allow the cookies to cool completey on a wire rack. Use a pastry brush dipped in light corn syrup and lightly brush the tops of the cookies with the corn syrup. Top with sprinkles and brush or shake off excess sprinkles that did not stick to the syrup.
Step 3
Bake cookies to the halfway point, which works best for sturdier cookies such as sugar cookies or gingerbread dough, and quickly remove the cookies from the oven. Leave the oven on and top the hot cookies with sprinkles. The sprinkles will slightly melt, but will not melt entirely as they will only be in the oven for five to ten minutes to complete the baking process.
Step 4
Try using sprinkles on cookies after the cookie has been baked and cooled; without ever introducing the sprinkles to the heat of the oven or the cookie. This tip works when cookies have been completely cooled first. Melt semi-sweet chocolate or use frosting to cover the cookie. Top with sprinkles which will adhere to the frosting or chocolate as it hardens.
Tip
Keep notes on recipe cards so you are aware of which techniques worked and which did not.
Warning
Use caution placing cookie sheets in and taking them out of a hot oven.