Things You'll Need
Mug

Microwave plate

Airtight container with lid

Bread

Slice of apple

Zippered plastic storage bag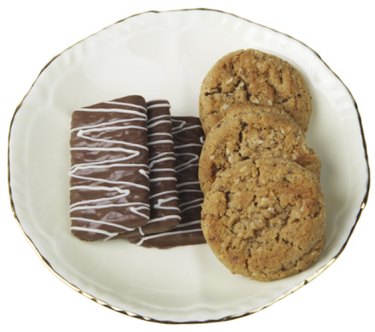 Ginger snaps are small, round cookies that snap when you break them. Since these cookies are made from ginger and molasses, once they cool, they harden. Some people may find eating these hard cookies too tough. If you prefer softer cookies, you can use a few methods to make your treats easier to snack on. These methods work for commercial made cookies or homemade treats. If all else fails, dunk your cookies in hot coffee or cold milk to make them more palatable.
Step 1
Place a cup of water and a plate of two or three cookies in the microwave. Heat the cookies for 10 seconds at a time until they are as soft as you like them.
Step 2
Put cookies in an airtight container along with a piece of bread or a slice of apple. Leave the cookies in the jar overnight to freshen them up.
Step 3
Store cookies in a zippered storage bag along with a slice of bread. Leave the cookies in a pantry overnight until the cookies soften.