Things You'll Need
Serger

Serger thread

Fabric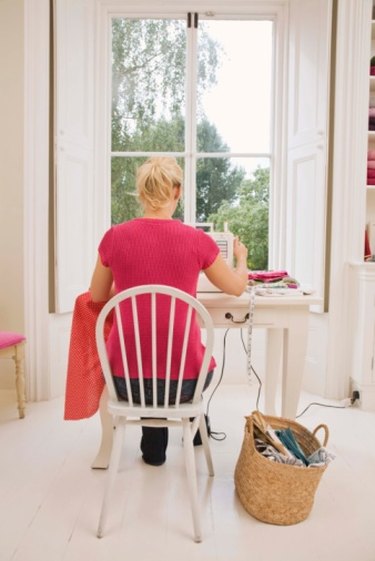 Stitching rolled hems with a serger can create a simple, yet effective hemline that will finish a variety of projects. Although napkins may be one of the most common rolled hem items, this hemming technique is also suitable for scarves and lightweight skirts. When you stitch a rolled hem in an item with corners, the technique for turning corners with a serger may take a little practice. With effort, you will soon be turning beautiful corners when serging a rolled hem.
Step 1
Position the fabric you are roll-hemming into the serger, beginning your stitching just after a corner. Serge along the very edge of the fabric until you come to the next corner.
Step 2
Stitch very slowly until you sew one stitch beyond the corner. Stop the serger and position the needles in the raised position.
Step 3
Lift the presser foot and move the fabric back so the threads come off the stitch finger (immediately under the needles).
Step 4
Turn the fabric to reposition it after the corner. Align the fabric so the needles will go down into the fabric immediately on the other side of the corner.
Step 5
Pull the needle threads slightly just above the tension guides to tighten the thread tension.
Step 6
Lower the presser foot and serge again to the next corner. Repeat the same process at each corner.
Tip
Practice serging outer corners before trying this technique on a project to avoid mistakes.