Things You'll Need
Pair of shoes

Construction paper

Pencil

Scissors

Orange felt

Black marker

Double-sided tape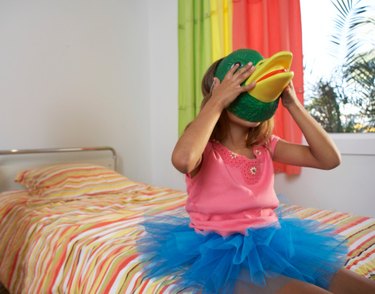 Ducks are quirky and cute Halloween costumes for kids and adults. The costume is easy to make and inexpensive. The duck feet are an important part of the costume and are simply attached to any pair of shoes, including sneakers, high heels and flip flops. Don't forget to "waddle" or do the chicken dance throughout the night!
Step 1
Trace the shape of your shoes on construction paper with pencil, leaving one and one-half inches extra around the perimeter.
Step 2
Draw three peaked webbed toes at the front of each foot. Cut out each duck foot pattern.
Step 3
Trace the duck foot onto the felt with marker. Cut right inside the black marker line, so that it is not visible on the duck foot.
Step 4
Make a cut across the center of the duck foot just large enough to fit over your foot. Put on the duck feet and secure them to each of your shoes with double-sided tape.