Things You'll Need
Muslin

Tennis shoes

Straight pins

Fabric pencil or marker

1 yard green felt

Fabric shears

Sewing machine

Iron

Hot glue gun

2 white pom-poms

Elastic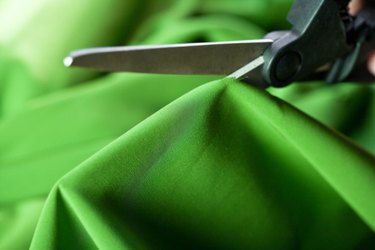 Tinkerbell is a character from the children's story Peter Pan. She is a tiny fairy that dresses in green and uses magical pixie dust. Tinkerbell costumes can be worn for Halloween, costume parties or fairy birthday parties. No Tinkerbell costume is complete without a pair of pom-pom fairy shoes. Create green shoe covers from felt to wear over your shoes and bring your costume to life. Tinkerbell shoe covers are a simple project that can easily be completed in one afternoon.
Step 1
Create a pattern for the shoe covers using muslin. Cut the muslin into four large squares that are big enough to cover the sides of a pair of tennis shoes. Position one square of muslin on each side of the shoe. Pin the two squares snugly together around each shoe with straight pins, creating one seam in the center front of the shoe and a second seam in the center of the heel. Use a fabric pencil or marker to draw a line 1/2 inch away from the line of pins on each seam. Draw lines along the fabric 1/2 inch above the top of the shoe and below the shoe's bottom. Repeat this process with the remaining two squares of muslin on the opposite shoe.
Step 2
Write on each muslin piece which foot and side it belongs to and unpin the pieces. Cut along the marks to remove excess fabric from your pattern. Lay 1 yard of green felt on a flat work surface and smooth out any wrinkles. Lay the four pattern pieces on top of the felt and pin in place. Use fabric shears to cut around the pattern pieces.
Step 3
Select the pieces for the right foot and unpin the muslin pattern from each piece. Layer the two pieces of felt with their right sides together. Line up all the edges. Sew the pieces together along the front center seam and back center seam using a sewing machine. Fold the top edges of the shoe covers down 1/2 inch and sew in place. Press the front center and back center seams open. Turn the shoe cover right sides out. Repeat this process for the second shoe cover.
Step 4
Apply hot glue to the bottom of two white pom-poms and press one to the top of each shoe cover near the toe. Sew the ends of a strip of elastic to both bottom edges of each shoe cover. The elastic strip will stretch across the bottom of the shoes and hold the cover in place. Put the shoe covers over the top of the tennis shoes, stretching the elastic strips around their bottoms. Put the shoes on your feet.
Tip
Instead of tennis shoes, try making these Tinkerbell shoe covers for flat-bottomed ballerina slippers.