Things You'll Need
Sponge

Measuring tape

Lightweight fabric

Craft knife

Spray-on fabric starch

Metal ruler

Push pins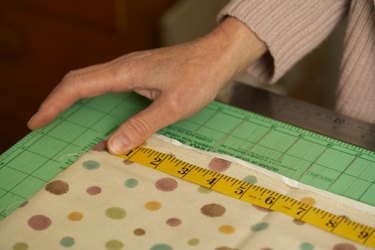 Whether you love the look of wallpaper but you can't find a pattern you like or you have a piece of fabric that would make a better wall covering than a skirt, applying fabric to your walls is a design technique that will liven up any room. Adhering fabric to your walls is a simpler process than wallpapering and, unlike wallpaper, if you change your mind, fabric can be easily removed from your walls.
Step 1
Wash your wall with your sponge and warm water to remove any dust or debris from the surface. Allow the wall to air-dry.
Step 2
Measure your wall from the floor to the ceiling with your tape measure, and add 3 inches to the measurement to allow the fabric to overhang the wall.
Step 3
Cut your fabric to the length of your measurement with your craft knife. If using a patterned fabric, line the pattern up before cutting your second panel.
Step 4
Spray the top half of your wall with spray starch to the width of your fabric. Press your fabric to the wall, leaving 1 1/2 inches of fabric over the edge of the ceiling. Smooth out any air bubbles in the fabric using a metal ruler or other straight edge.
Step 5
Spray the bottom half of your wall with starch, and adhere the rest of your fabric to the wall, smoothing out any air bubbles and wrinkles as you did before.
Step 6
Spray your starch on top of the top half of your fabric, applying it in an even layer. Smooth out any air bubbles or wrinkles with your metal ruler. Repeat this process on the bottom half of your fabric. Repeat the entire process until you have covered the desired area with fabric.
Step 7
Press push pins into your wall to hold the fabric panels in place. Allow to dry over night.
Step 8
Remove the push pins from the wall the next morning, and use your craft knife to trim away the excess fabric from the top and bottom of the wall.
Tip
To remove the fabric, simple pull it away from the wall. If the fabric won't pull easily, dampen it with a sponge until it releases. Wash the walls to remove any starch residue.
Removed fabric can be washed and used again once it is removed.
Fabric can also be used to create a border design, murals or collages.
Lightweight fabrics such as gingham, cotton and chintz work best for this project.