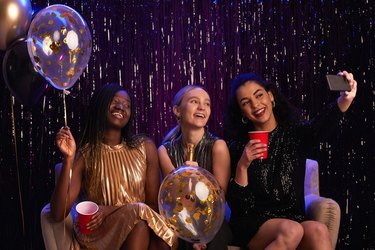 Being on your school's homecoming court isn't only about being liked and getting lucky. If you want to be on the court, you should explore running for homecoming court ideas. There are proven tips and tricks that past kings, queens and court members used. Determining which methods best fit your personality and school can help you get yourself elected.
Start Your Campaign Early
First of all, if you want to sit on the homecoming court, plan ahead. You'll need to decide on a slogan and plan your campaign well in advance to give you an edge over the competition. Ask for help coming up with homecoming campaign ideas. Don't be shy about it. Tell your friends, teammates, classmates and anyone who will listen that you're planning to run.
Speaking of your classmates, be everyone's friend! Smile at everyone in the hall, strike up conversations and stay out of drama, gossip and fights. People remember your acts of kindness and friendliness.
Homecoming King and Queen Slogans
Now that you've laid the groundwork by making lots of friends, creating a slogan is one of the most effective methods you can use. It makes your name more memorable so that even people who don't know you will remember you when they vote. It should be short, creative and easy to recall.
A slogan that relates directly to your name works well, but you can also use references from popular culture. Don't use the same one everywhere because people will get used to seeing it and learn to ignore it. Use bright colors and eye-catching images and utilize these slogans and signature images for homecoming court flyers and other campaign materials. Whatever you do, make sure your posters get noticed. In addition, include instructions for how to vote. It won't help you if everyone knows your name, but no one knows how to vote for you.
Make sure you display the posters in the busiest places in your school. Be creative with where you put them too. You have a captive audience inside bathroom stalls. Posters hanging outside of classrooms work well for when students are waiting to get into them. Think about where people wait in line, such as outside the cafeteria.
Homecoming Campaign Ideas
There are lots of other ways to run a campaign for homecoming. In addition to making your name recognizable with a slogan, you should also get your face out there. Just like in politics, it's essential to meet your potential "constituents."
Giveaways are an excellent method to get your peers to talk to you. What you can do depends on your budget, but usually, pens, lanyards, water bottles and other small items are inexpensive. Set up a table with buttons or other inexpensive materials with your name and slogan on them. Better yet, hand out food. You can attach your slogan to all kinds of tasty treats and better engage people walking by.
Be active on voting days. Have people you personally know vote. Have little flyers handy with voting instructions. Remember that every vote counts. If you win your campaign, be sure to thank those who voted for you. If not, it's OK; you still put yourself out there and likely made some new friends and acquaintances, which takes profound courage.