Things You'll Need
Drop cloth

Protective eye wear

Protective gloves

Newspaper

Blue painter's tape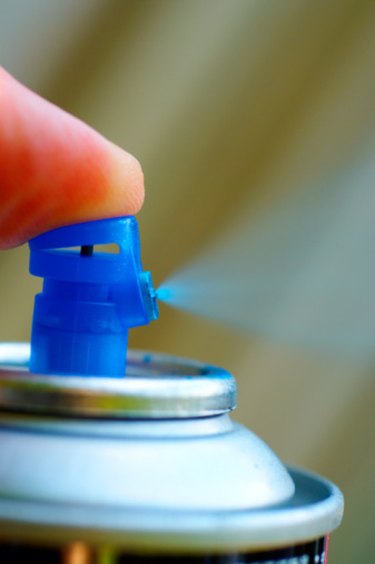 Jazz shoes are flexible footwear which allow dancers to move their feet into positions they would not normally be able to achieve with regular shoes. These shoes come in several colors, including black and tan. If you are in a pinch or don't want to purchase brand new jazz shoes, try spray painting them in another color. Use a spray paint that is made for shoes, ask your dancing school for paint, or use spray paint made for fabrics.
Step 1
Set your materials up outside. Put down a drop cloth and wear clothing you won't mind getting dirty. Put on protective eyewear and gloves.
Step 2
Stuff the inside of your shoes with newspaper. This will stretch out the shoes as if a person was wearing them.
Step 3
Using painter's tape, tape off areas of the shoe that you may not want sprayed. If your jazz shoes have a leather sole, tape this off to avoid getting paint on it.
Step 4
Follow the spray paint's instructions, including if you need to shake the can before application and how far away you need to hold the can. Different manufacturers will give different instructions.
Step 5
Spray the paint onto your shoes to lightly coat them. You don't want a heavy coating as this may cause the paint to run and not look even.
Step 6
Dry the shoes completely, then add another light layer of paint.
Step 7
Let the shoes dry completely before removing the painter's tape and newspaper.