Things You'll Need
Grapevine or bendable metal or twig

Glue

Leather stripping

Twine

Beads

Feathers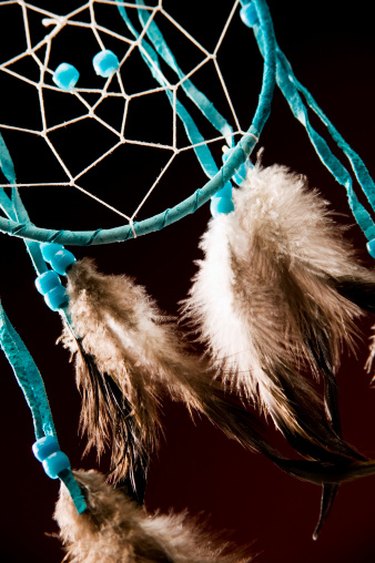 They may appear as intricate crafts, but Navajo dreamcatchers actually follow a pattern of stitching that you can accomplish with creativity and few materials, making for a fun multicultural project. Native American lore surrounding dreamcatchers is embedded in belief that these hanging charms catch and release bad dreams and spirits, preventing nightmares and evil. Hang a dreamcatcher in your bedroom from a doorknob, window or wall, or present one to a child, sibling or friend who suffers from nightmares.
Step 1
Bend a 36-inch strip of grapevine or bendable metal or twig into a circle to create the hoop of your Navajo dreamcatcher. Twist the ends of the material together to keep the form of the hoop.
Step 2
Place glue around the interior and exterior of the hoop. Wrap the hoop tightly in colored leather stripping to reinforce the shape of the hoop and to add decoration.
Step 3
Cut a 12-inch piece of leather stripping and tie the ends of the strip together. Loop the strip around the weakest part of the hoop, such as the place where the two ends meet, to create your hanging loop.
Step 4
Cut 8 ft. of twine. Tie a knot at the starting point, under the hanging loop on your hoop. Bring the twine to the front face of the hoop.
Step 5
Place the twine on top of the hoop and move it to the back to create the appearance of a hole. Pull the twine from the back through the hole. Continue the stitching pattern throughout the circumference of the hoop, keeping stitches about 1 to 2 inches apart. Stop about 1/2 inch away from the hanging loop.
Step 6
Stitch the same pattern around the first row of stitching to complete the second round of stitching, looping at the ½ point of each stitch. Continue this until forming a web, leaving a hole in the middle.
Step 7
Discontinue stitching at the bottom of the center hole. Double stitch the bottom of the hole to create a knot in the twine, securing the entire stitching in place. Cut excess twine off or add beading and feathers to it, knotting it at the bottom.
Step 8
Cut 12- to 24-inch strips of colored leather and loop knot them around the bottom middle and sides of the hoop inside holes created by the stitching. Leave the ends of the leather strips untied. Add beads to the ends and tie a knot. Glue a feather over the ends. Hang your Navajo dreamcatcher on a door or above your bed.