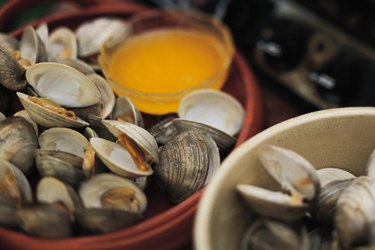 From a summertime clam bake to a creamy New England chowder, clams have woven their way into the diets, as well as traditions, of many Americans. While nothing beats the taste and quality of fresh seafood, frozen clams provide a way for cooks and their families to enjoy clams whenever they want, months after they have been purchased. Cooking frozen clams requires a few steps to ensure that the frozen seafood is thawed properly and prepared in a safe, healthy way.
Step 1
Thaw the clams in the refrigerator. Transfer the frozen clams from the freezer to the refrigerator the night before you plan on using them to let them defrost overnight.
Step 2
Finish thawing the clams under running water. If the clams are not entirely thawed or you forgot to remove them from the freezer the night before, place the frozen clams in a waterproof package and run the sealed package under cold running water until they are defrosted.
Step 3
Cook the thawed clams according to the recipe you are using.