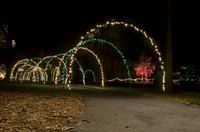 Make your outdoor space a holiday show stopper this season with an electric light show of illuminated arches. Whether you install them over walkways, driveways or along walls or fences, lighted Christmas arches can transform your home into a stunning visual display of light and color. Create leaping arches by placing them in a single line with sequential lights or create tunnels by anchoring them consecutively in a row. Whether you're a new homeowner or you've never ventured past the porch to decorate, with a basic understanding of outdoor Christmas light installation you can design and build spectacular lawn decorations.
Things You'll Need
3/4-inch diameter 10-ft PVC pipe
1-by-2-inch wood strips
Tape measure
Power saw
Power drill
Drill bits
Two 1/2-inch-by-8-inch external hex-head lag screws
Adjustable wrench
Screwdriver
1 1/4-inch wood screws
Christmas lights
Outdoor tape
Lay the polyvinyl chloride pipe flat on the ground and bend it to determine the desired height of the arch. Measure the distance between each of the pipe ends. Cut a piece of 1-by-2-inch wood based on this measurement.
Attach an external hex-head lag screw to each end of the wood strip about 1 inch from the end and at a depth of 1 inch to anchor the PVC pipe ends. Measure and cut three 4 feet pieces of 1-by-2-inch wood. Attach the three wood strips at their center point to the underside of the first 1-by-2 inch wood strip at both ends and in the middle in a using 1 1/4-inch wood screws for stabilization.
Place one of the PVC pipe ends over one of the lag screws sticking up from the end of the 1-by-2 inch strip of wood. Bend the pipe over to the other end and place it over the lag screw to form the arch.
Wrap the Christmas lights around the PVC arch tightly and secure them with outdoor tape every few feet.
Place the Christmas light arch in the desired location of the yard or driveway area. Lean the arch upright and test it for stability. Extend the length of the stabilizing cross pieces if necessary by removing the existing 1-by-2-inch strips and replacing them with longer pieces.