Ocotillo (Fouquieria splendens) is an unusual flowering plant found in the deserts of northern Mexico and the American Southwest. The erect, spiny stems grow to between 6 and 30 feet, and for most of the year the stems appear dead with a dull grayish-brown coloring. Following rain, ocotillo plants quickly produce a crop of tiny ovate leaves, which line every part of the plant. Small, brilliant red flowers emerge on the tips of each stem in spring and summer but quickly fade. Gardeners in USDA zones 8 to 11 sometimes grow ocotillo at home for large landscape plantings, and seed-based propagation is by far the simplest and most effective means of creating new plants.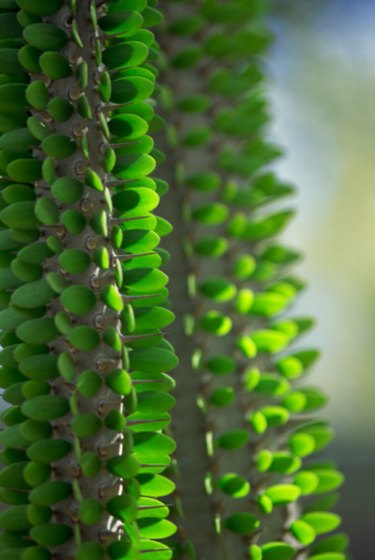 Things You'll Need
Compost

Perlite

Sharp River Sand

Propagation Mat

1-Gallon Plastic Pot
Step 1
Collect seed from an ocotillo plant in late spring or late summer once the flowers have faded and developed into seed. Take seed only from cultivated ocotillo plants since wild ocotillos are protected throughout most of their native range. Sow the ocotillo seeds as soon as possible after gathering them.
Step 2
Prepare a pot for each ocotillo seed. Fill 1-gallon plastic pots with a mixture of 4 parts sharp river sand, 2 parts compost and 1 part perlite. Pour 1/4 cup of water into each pot to lightly moisten the soil to a depth of 1/8 inch.
Step 3
Sow an ocotillo seed in each pot to a depth of 1 inch. Cover the seed with sharp river sand.
Step 4
Set the potted ocotillo seeds on a propagation mat set to 95 degrees F. Lower the heat to 70 degrees F at night. Expose the seeds to at least nine hours of direct sunlight per day. Maintain light moisture in the sand to a depth of 1 inch.
Step 5
Watch for germination in eight to 15 days. Keep the pots on the propagation mat for one week after sprouting. Move the pots outdoors to a bright, sunny spot with good air circulation.
Step 6
Decrease water to no more than 1/4 cup every 10 to 14 days once the ocotillo seedlings reach 4 inches in height. Plant them in a permanent bed once they develop mature spines.
Tip
Propagate ocotillo plants only when there are at least 45 frost-free days after planting.