Things You'll Need
Delivery attempt notification card

Photo identification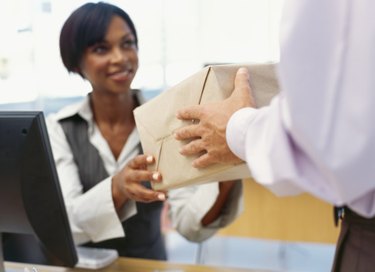 Some types of mail must be signed for by the addressee or an authorized agent. This can be a complicated task if you are under 18 years of age and the package is not addressed to you. If the package is addressed to you, you can pick it up by taking your passport, driver's license or other identification to the post office. In addition, because who the package is left with at the home is in the carrier's discretion, you may be able to receive delivery of the package at home with proper identification.
Step 1
Remove the delivery attempt notification card. Have the addressee complete the card with your name as an authorized agent and sign it. Alternately, the addressee can complete a Standing Delivery Order Form 3801 making you a permanent authorized agent.
Step 2
Take the card or the form with you to the post office location indicated on the card.
Step 3
Present the card and your photo identification to the postal clerk. You may be asked to sign your name and provide your address.