Lasagna requires cooking the noodles, preparing the sauce, and layering the dish, which makes it a time consuming recipe that isn't suited for busy nights. Making up the lasagna ahead of time and refrigerating it for later allows you to tackle preparation when you aren't pressed for time. Refrigerated lasagna tends to dry out during cooking, but this is avoided by having extra sauce on hand. When refrigerating the dish, wrap it well with foil or plastic to further prevent drying.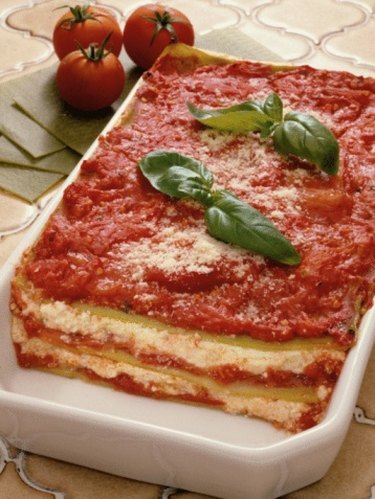 Things You'll Need
1 2/3 Cups Marinara Sauce

Spoon

Pot
Step 1
Preheat the oven to 350 degrees F.
Step 2
Remove the covering from the lasagna pan. Place it in the preheated oven.
Step 3
Bake the lasagna for one hour, or until the sauce bubbles and the top begins to turn golden brown.
Step 4
Pour the marinara sauce into a small saucepan. Cook over medium to medium-high heat, stirring constantly, until the sauce is heated through.
Step 5
Pour the sauce over the top of the lasagna. Let the lasagna cool and set for 10 minutes, then cut and serve.
Tip
Thaw the frozen lasagna in the refrigerator for 24 hours before cooking and serving.