Things You'll Need
11-by-17 in. cardboard sheet

½ teaspoon bleach

Spray bottle

2 1-quart plastic tubs

2 tablespoons hydrogen peroxide

½ teaspoon laundry detergent

Rubber gloves

Safety goggles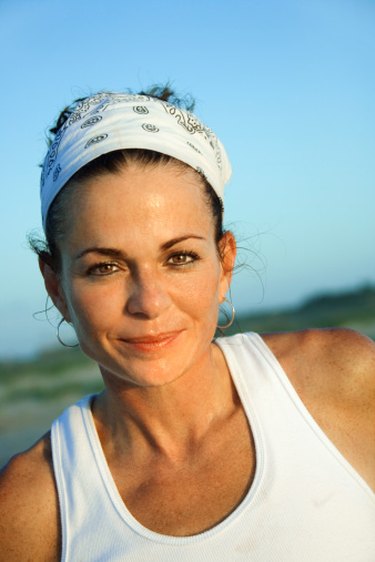 Fading fabrics, also known as discharging, is the process of removing color from garments using bleach. Although bleach is a liquid most people try to keep clothes from to prevent unwanted stains, fading a garment can create an artistic distressed appearance to items, such as bandanas, for a fashionable look. Fade a bandana using a bleach and water solution at home. Make the bandana one to two shades lighter with the bleach solution, and wear the faded bandana as an accessory with any outfit.
Step 1
Lay sheet of cardboard on the ground outside of the home, and place the bandana over the sheet of cardboard with the front facing up. The cardboard protects the ground from the bleach. Wear rubber gloves to protect your skin from the bleach. Wear goggles to protect your eyes during the project as well.
Step 2
Pour the bleach into the spray bottle, along with 2 cups of water. Shake the spray bottle vigorously with one hand to mix the bleach and water together. Then set the spray bottle aside for five minutes to let the mixture settle.
Step 3
Pour 3 cups of water into one plastic tub, and fill a second plastic tub with 2 cups of water and the hydrogen peroxide. Plain water helps dilute the bleach on the bandana, while the hydrogen peroxide mixture neutralizes the bleach.
Step 4
Distance the spray bottle 6 inches from the top surface of the bandana, with the nozzle pointing toward the top left corner of the bandana. Spray the bleach solution onto the bandana in a sweeping motion, from left to right. Apply one layer to the front, and allow the solution to dry for one minute. Then apply a second layer.
Step 5
Permit the second layer of bleach solution to dry on the bandana. Flip the bandana over with one hand, and apply the bleach solution in the same manner as in step 4. Permit the bandana to dry for 30 seconds. Then rinse and wring the bandana in the tub of water. Submerge the bandana in the hydrogen peroxide mixture for five minutes after rinsing.
Step 6
Remove the bandana from the hydrogen peroxide solution, and put it in the washing machine. Wash the bandana with warm water and ½ teaspoon laundry detergent. Hang the bandana outside to air dry after washing. Washing the bandana removes bleach residue left on the fabric, allowing the bandana to be worn without irritating the skin.
Tip
Wear old garments you are comfortable damaging, in case the bleach solution gets on your clothes while fading the bandana.
Warning
Work outside when spraying bleach to avoid inhalation.
Avoid applying bleach to wool and silk bandanas, to prevent severely damaging the fabric.