Things You'll Need
2 large temporary hooks (with adhesive)

Straight, narrow curtain rod

2 curtain rod holders (without hardware)

Curved curtain rods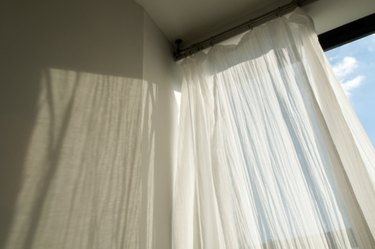 Living in a rented apartment may present decorating challenges if your landlord will not allow holes in the walls from window-covering hardware. Fortunately, you can get creative and install curtain rods over windows in a rented apartment. You have several options for hanging the rods. As long as your window coverings are not too heavy, whatever method you select should be adequate for holding up the hardware.
Temporary Hooks
Step 1
Install large temporary hooks at the left and right corners of the window using the adhesive stickers that stick to the wall and to the back of the hooks. Press the hooks firmly into the wall surface with your fingers for at least 10 seconds.
Step 2
Allow one hour to pass while the adhesive sets on the hooks. Do not attempt to use the hooks until this time elapses.
Step 3
Install the curtain onto the curtain rod. Ensure that the weight of the curtain will not exceed the combined weight limit of two hooks--probably between 5 and 10 lbs.
Step 4
Set the curtain rod onto the hooks, centering the rod between the two hooks, and arrange the curtain over the window.
Curtain Rod Holders
Step 1
Install a curtain rod holder at each upper corner of the window. These rod holders sit over the window trim, enabling you to attach them to the window securely. You may find two brackets at each corner, enabling you to hang double curved rods over the window.
Step 2
Place the curtains onto the curved curtain rod, threading the rod through the upper pocket of the curtain.
Step 3
Attach the curved curtain rod to the rod holder at each corner by placing the end of the rod over the brackets on the rod holders.