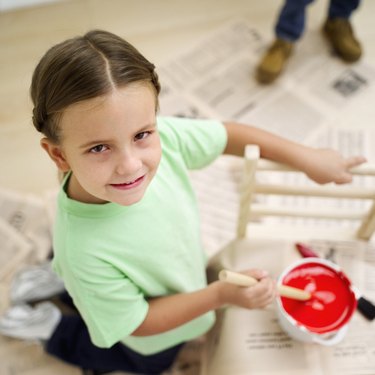 Make your own puffy paints with shaving cream and school glue for a simple project that's entertaining for all ages. A foam-style white shaving cream is key for the project; gel-style solutions will not work the same way. This type of puff paint works best on paper and is not meant for washable items, unlike store-bought fabric puff paints.
Supply Selection
Regular white school glue -- a kids' craft staple -- helps your homemade paint dry. Foam shaving cream provides the puff for the paint. Mixed together, the two create a white puffy paint, ideal for creating clouds, snowmen or snowflakes on paper. Food coloring adds tint to the puff paint so you aren't stuck with just white. Supply one foam brush per color, along with some inexpensive artist's brushes for more detailed painting. Construction paper provides an inexpensive backdrop for puffy paint, and the paper's color makes white paint stand out even more. Other types of sturdy paper may be used as well, but the color and thickness of construction paper makes it ideal for the project.
Making the Paint
Cover the work area with a plastic tablecloth to protect it from the paint. Set up several disposable plates; use one per paint color you wish to create. Squirt 1/2 cup or so of shaving cream onto each plate, or allow the kids to do it to experience the fun themselves. Add in an equal amount of school glue; exact proportions are not necessary, and the paint will still puff up and dry even if the proportions are somewhat off. Stir the mixture gently with a foam brush or plastic spoon, but keep stirring to a minimum so the foam stays fluffy. If creating colors, add a drop or two of food coloring to the ingredients before stirring, adding more for deeper colors.
Puff-Painting Basics
Puff paint may be used on its own, such as a painting of a snowy scene, or paired with an existing painting, such as a cupcake, gingerbread house or a series of trees in winter. Dip a foam brush or artist's brush into the puff paint; then apply the paint to the construction paper in somewhat thick layers. The thicker the paint, the puffier the image will look when dry. Use the puff paints to create icing on a painted or drawn cake or a gingerbread cookie, for a series of flowers in a garden scene, or anything you wish to stand out from the rest of your creation. Allow the paint to dry for several hours or overnight; otherwise, touching the paint may leave a mark in your work.
Special Effects
Add sparkle to your puff paint by mixing in a bit of glitter, or by sprinkling glitter atop a painted image while the paint is still wet. In either case, a little glitter goes a long way. Create swirls by painting a large area in one color, such as a yellow lollipop, then loading a brush with a second color, such as red, swirling it through the first shade atop your painting. Mixing the colors on your work, rather than swirling them on the paper plates, ensures the swirls stay intact; otherwise, the colors may blend together as you paint them onto the paper.